New Jersey Mass Choir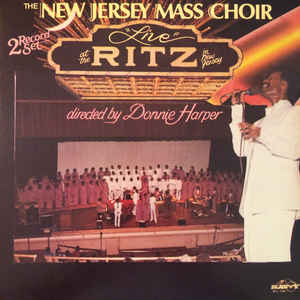 The New Jersey Mass Choir is best known for being the first gospel choir to back a rock band on a number one pop hit.
Donnie Harper founded the New Jersey Mass Choir on October 14, 1981, as part of the state chapter of the Gospel Music Workshop of America (GMWA).  The transplanted Texan from San Antonio was no newcomer to the gospel music industry: in 1977, his Voices of Tomorrow was the first gospel choir to sing on NBC television's Saturday Night Live.
Through the intercession of GMWA Founder and Chairman Reverend James Cleveland, the New Jersey Mass Choir began recording for Savoy soon after its formation.  Gospel singer Dorothy Bloat recorded with the group in 1982.  That same year, Cleveland presented the choir's debut album, Soon I Will Be Done with the Troubles of the World.  The following release, 1984's Live at the Ritz, was the first to make some chart noise for the new choir.  Under Cleveland's leadership, the New Jersey Mass Choir also recorded a star-studded live album at Newark, New Jersey's Symphony Center, featuring the Cleveland Singers, Dorothy Norwood and Cleo Kennedy.
The choir achieved international acclaim in 1984 when they backed British-American rock group Foreigner on its single, I Want to Know What Love Is.  Band member and the song's composer Mick Jones had envisioned a choir supporting the group on the record, and went off in search of the ideal group.  Harper told Totally Gospel in 1988 that the New Jersey Mass Choir had the good fortune of sharing an attorney with Foreigner.  "Our people submitted some choir albums to them and we were chosen."
Jones recalled that it wasn't until the New Jersey Mass Choir went into prayer in the studio that the musical magic he was looking for materialized.  "We did a few takes and it was good," Jones told Classic Rock magazine, "but it was still a bit tentative.  So then they all got round in a circle, held hands and said 'The Lord's Prayer.'  And it seemed to inspire them, because after that they did it in one take.  I was in tears, because my mum and dad were in the studio too, and it was so emotional."
Released on Foreigner's Agent Provocateur album, I Want to Know What Love Is went to number one and became the group's biggest hit ever.  Rolling Stone placed it among the top 500 greatest songs of all time.
Hot on the heels of this experience, the New Jersey Mass Choir recorded their own version of I Want to Know What Love Is, and it crossed onto Billboard's Hot Black Singles chart.  Subsequently, Prelude Records (which at that time owned Savoy) released a full album featuring the choir singing currently popular songs with inspirational messages.  The next album, Look Up and Live, hit number one on Billboard's Top Gospel Albums chart.  The choir went on to record for a variety of labels during the remainder of the 1980s and 1990s.
The choir's crossover success led to international tours and opportunities to partner with other pop and R&B luminaries—from Patti LaBelle and Stevie Wonder to Michael Jackson and Garth Brooks.  They also sang for Whitney Houston's funeral service.
Harper was ordained in 1991, and as Reverend Donnie Harper, he serves as minister of music for Good Neighbor Baptist Church in Newark, New Jersey.  He and the New Jersey Mass Choir continue to appear on gospel programs and other music events.