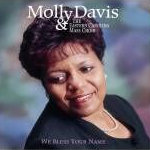 Molly Davis & the Eastern Carolina Mass Choir
Born to Reverends Roland and Mary Newton, Molly Davis grew up in Farmville, North Carolina, and was raised in the United Holy Church of America. She attended her parents' churches, New Beginnings United Holy Church and Evergreen United Holy Church, the latter located in Washington, North Carolina. It was in the church that Molly first began to revel in the vibrant sounds of gospel music.
During the 1960s, Molly joined her sister Mary, brother Roland Jr. and friend Bernice in a local gospel group her father formed called the Four Stars. Later, Molly attended Winston-Salem State University where she majored in music and sang in the university chorus. Although the choir performed gospel songs, it also exposed Molly to a variety of choral literature.
After graduating from college, Molly moved to Maryland where she taught music, but when her father passed away, she returned home to North Carolina to be near her family. She resumed teaching music, this time for Pitt County Schools, where she remained for 38 years.
In the 1970s, Molly formed a gospel group called Molly Small and the Celestials. The unit traveled the local gospel circuit and cut a four-song, seven-inch 33 1/3 EP that was released with a picture sleeve on the Mega Sound Studios label. Molly also sang with the Eastern District Mass Choir, a North Carolina–based group that caught the attention of gospel's famed storyteller Dorothy Norwood. Dorothy invited Molly to guest solo on In the Presence of the Lord for her 2004 Malaco album, Stand on the Word. It was the start of a friendship between the two that continues to this day.
When Molly decided the time was right for her to cut a solo album, she wanted a choir to back her, so she recruited the Celestials and some local church friends, and advertised for other members, to form the Eastern Carolina Mass Choir. Dorothy Norwood agreed to produce the album. Recorded at the New Mount Moriah United Holy Church in Farmville, the choir, directed by Ron Bigelow, backed Molly on nine traditional-flavored selections mostly composed by her son, Tommy Davis Jr. Dorothy herself led two of the tracks, including the haunting Go Tell All My Friends. We Bless Your Name was released by Malaco in 2005.
Molly Davis and the Celestials continue to appear around the region and provide background vocals for Dorothy Norwood from time to time.
—Robert M. Marovich