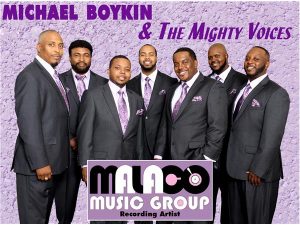 From Clinton, North Carolina, "The Prince of Gospel" Michael Boykin is a quartet singer, radio announcer and radio station owner. When singing, he is a hard-driving quartet lead in the vein of such legendary gospel artists as Clarence Fountain, Robert Blair and his mentor, the Reverend Howard "Slim" Hunt.
Michael's career started at age two when he was recruited to sing in the Sensational Gospel Singers #2 choir at his parents' church. He credits his brother, Lemanuel Boykin, the church's director of music and a college-educated musician, as one of his first music instructors. Over time, Michael became proficient on piano and drums, and in songwriting. When Lemanuel left the church's music ministry to accompany Willie Neal Johnson and the Gospel Keynotes, he felt confident enough in his brother's skills to turn it over to him.
Michael made his first recording, Jesus Is a Rock, in the mid-1980s as a member of the Gospel Stars. This experience inspired him to pursue singing for the Lord professionally. He joined Slim and the Supreme Angels when he was 20 years old, playing keyboards and singing second lead to the Reverend Howard "Slim" Hunt from 1999 until Hunt's death in 2007.
Many thought Michael left the Supreme Angels to form his own group, but in actuality, he left to become a gospel radio show host. His Prince of Gospel Radio Show still airs weekly on WCLN-AM in Clinton. In 2009, he extended his involvement in radio by purchasing WBLA 1440 AM, a 24-hour gospel station in Elizabethtown, North Carolina.
Michael formed the Mighty Voices in May 2005, after a friend persuaded him to not abandon his singing career entirely for radio. Ray Braswell Jr. produced the quartet's debut recording, 2006's Young and Saved, for Michael's independent Versatile Music Group label. The group released Coming Out of the Storm on Versatile in 2009.
Braswell then introduced the quartet to Malaco Records and they signed a recording contract in May 2014. The group's first project for Malaco, "Anyway" Live, was released in May 2015.
Michael Boykin was named Announcer of the Year in 2010 by the North Carolina Gospel Announcers Guild of the Gospel Music Workshop of America and received the 2009 Internet & Media Prestige Award. With the Mighty Voices, Boykin shares the 2006 North Carolina Gospel Announcers Guild Prestige Award for Group Traditional Duo, the 2009 Newsome Gospel Music Award for Quartet of the Year and the 2010 Rhythm of Gospel Award Male Quartet of the Year.