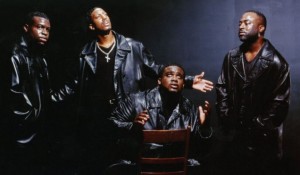 In 1996, four young gospel soloists formed Men of Standard to put a crossover touch to the venerable male gospel quartet tradition.
The two founding members, Isaac Carree and Lowell Curtis Pye Sr., met while members of John P. Kee's New Life Community Choir.  Next, Michael Bacon, a Dallas-based music producer, joined the group.  Bryan Pierce, the fourth member to climb aboard, was a youth pastor at Pastor Paul Morton's Greater St. Stephens Church in New Orleans.
The group evoked the pioneering male gospel group Commissioned in its blend of urban contemporary flavors, including smooth vocal delivery and sweet harmonies, with religiously-based lyrics and inspirational messages.
Pye explained the group's name and purpose to publicist Bill Carpenter: "We wanted to be different.  God is calling for more than just another group of singers.  He's demanding that you live a holy lifestyle.  I think we came up with the name Men of Standard because we wanted to let people know that you've got to have standards.  We as a group want to set a standard.  We don't want to compromise our beliefs for anyone."
Produced by David Caldwell, Men of Standard's self-titled debut album came out on Muscle Shoals Sound Gospel in 1996 and produced the radio single Winter.  Feels Like Rain appeared three years later, in January 1999, introducing audiences to In Your Will.
Volume III came out on Muscle Shoals Gospel in 2002 and It's a New Day in 2004.  The latter contained cameo appearances by such artists as Damita Haddon, P. J. Morton, Darius Twyman & Destiny and Carree's mother, recording artist Nancy Carree Wilson.
When Bacon departed the group amicably in 2005, the group became a trio consisting of Carree, Pye and Pierce.  A year later, the group left Muscle Shoals Gospel to sign with Columbia Records/Sony Gospel.  The result was Surrounded, produced by Warryn Campbell and featuring guest vocals from Kirk Franklin and rapper Heavy D.
In 2009, Muscle Shoals Gospel put together a greatest hits package that featured seventeen selections from the four albums the group made for the label.
Pye and Carree ultimately launched individual solo careers.  Pye began his in 2010 with Finally (Miralex Productions).  His second album, Transformed, came out in eOne Music in 2014.  Both discs made the Billboard Top Gospel Albums chart.  Carree's solo career commenced in 2011 with the release of Uncommon Me (Sovereign Agency) and 2013's Reset (Door 6).  Like Pye, Carree also saw Billboard chart action for his albums.