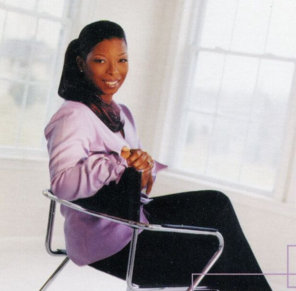 Known as the "Princess of Praise & Worship," Maurette Brown Clark was born on Long Island, New York, on May 5, 1966. As a child, she took voice and piano lessons, and also played the clarinet. She sang with her family's gospel group, the Brown Singers, and participated in vocal ensembles in high school and at the University of Maryland, where she graduated with a bachelor's degree in business administration.
Not long after graduation and entrance into the business world, Brown Clark decided that there was more to life than a daily routine and a steady paycheck. That epiphany led to her starting a music ministry. She sang background for CeCe Winans and Bishop Hezekiah Walker, then joined Richard Smallwood's vocal ensemble, Vision. Brown Clark's solo on Angels, from Smallwood's 1996 Verity Records album, Adoration: Live in Atlanta (which also included the classic Total Praise), led Verity to sign her as a solo artist. Her debut CD for Verity, How I Feel (1998), and the single Breaking of Day earned her a Stellar Award for Best New Artist.
Brown Clark left Verity and signed with AIR, where she released By His Grace (2002), The Dream (2007) and The Sound of Victory (2011). By His Grace received a Gospel Music Workshop of America Gospel Music Excellence Award and two Stellar Award nominations.
Recorded at the Empowerment Temple AME Church in Baltimore, The Dream was a landmark recording in many respects. It produced the gospel radio hits One God and It Ain't Over (Until God Says It's Over) and gave Brown Clark her second Stellar, for Praise & Worship CD of the Year. Brown Clark's daughter Jada earned a Stellar that same year for her performance of I Am What God Says I Am, also from The Dream. Finally, the album's background vocalists Anthony Brown and Answered Prayers—now known as Anthony Brown and Group TherAPy—went on to earn ten Stellar Awards in 2016 and a Grammy nomination, becoming one of gospel music's most popular groups.
Maurette Brown Clark now has her own radio program, "The Sound of Praise with Maurette Brown Clark," that airs over Praise 103.9, WPPZ-FM. She broadcasts live from Philadelphia as well as from her hometown of Baltimore.
—Robert M. Marovich