Margaret Allison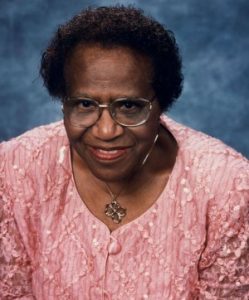 Born September 25, 1921, in Plum Branch, South Carolina, just outside of the town of McCormick, Margaret Wells "Babe" Allison migrated with her parents to Philadelphia, Pennsylvania, when she was four years old. Allison so admired a local singer and pianist named Valerie Starks that she decided to take up piano. In 1941, she began accompanying a Philadelphia female gospel group called the Spiritual Echoes.
One night in 1944, while still working with the Spiritual Echoes, Allison dreamt that her pastor told her to form her own singing group. After much deliberation and with encouragement from her husband, Allison organized the Angelic Gospel Singers. Ella Mae Norris and Lucille Shird of the Spiritual Echoes not only offered their blessing but also agreed to join her group. Allison invited her sister, Josephine Wells McDowell, to be the fourth voice. The Angelics gave gospel songs a bright and compelling harmony that evoked the era's top pop hits.
In 1949, a Philadelphia gospel promoter heard the Angelics and offered to introduce them to Gotham Records president Ivin Ballen. Although initially apprehensive about recording, Allison agreed to let the promoter take them to the Gotham offices. Ballen asked the group to sing something no gospel artist had recorded to date. Allison remembered hearing a woman sing Lucie Campbell's Touch Me Lord Jesus, but she did not like the arrangement. She worked out a new arrangement with a more contemporary sound based on the emerging vocal harmony group phenomenon. Ballen loved Allison's version, released the song, and it became an overnight success. It sold an estimated 100,000 copies at the time of its release.
The Angelic Gospel Singers became darlings of the gospel circuit, traveling nationally, though meeting with many of the same trials other gospel groups of the day encountered. "Faith in God carried me through," Allison commented. "Before I would go before an audience, I would have a prayer with the group. My prayer [was] to ask the Lord to bless us, bless our audience, and to help us sing something that will touch somebody."
The group followed Touch Me Lord Jesus with a series of successful Gotham singles, including There Must Be a Heaven Somewhere, Back to the Dust and an Allison-penned song that became a Christmas classic: Glory, Glory to the Newborn King. Wrote gospel singer and historian Horace Clarence Boyer: "The Angelic Gospel Singers were to the Pentecostal congregations what the Ward [Singers] were to the National Baptist Convention."
When the Dixie Hummingbirds and Angelics toured together as part of a package, they often performed songs together. In 1950 and 1951, Gotham recorded the two groups singing classics such as Dear Lord, Look Down Upon Me and Standing Out On the Highway, with Allison and the Dixie Hummingbirds' Ira Tucker trading lead vocals.
Lucille and Ella Mae retired from the Angelics after they each got married. Allison and her sister kept the group going, replacing the two original members with Thomas Mobley and Bernice Cole. The reconstituted group recorded singles and albums for Nashboro from 1955 until 1983, when they signed with Malaco Records. For Malaco, they recorded a string of albums, including Touch Me Lord Jesus, Don't Stop Praying, Out of the Depths, I've Weathered the Storm, I've Got Victory, Try God and 40 Years, the latter celebrating the Angelics' longevity in gospel music. The 1987 Malaco single I've Got Victory put the Angelic Gospel Singers back in gospel radio rotation.
In 2000, after being hospitalized for congestive heart failure, Allison continued to sing but curtailed her extensive touring. Margaret Allison's final recorded project for Malaco, Touch Me Again, was released in 2008, not long before she passed away in Philadelphia on July 30 of that year. At age 86, she was the last living member of the original Angelic Gospel Singers.
—Robert M. Marovich