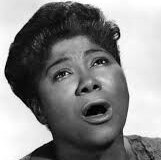 Mahalia Jackson was to gospel music what Enrico Caruso was to opera—the voice that comes along once in a century.
Considered the greatest gospel singer of all time, Mahalia Jackson was born in New Orleans, Louisiana, on October 26, 1912, to Charity Clark and Johnny Jackson Jr. Her parents never married and did not live together, so when Charity died at a young age in June 1918, Mahala (she would add the "i" to her name later) went to live with her namesake aunt, Mahala "Duke" Clark.
Jackson grew up listening to the music of the church and singing in Mount Moriah Baptist Church, but she also absorbed the sounds emanating from the local Pentecostal church, as well as the rich gumbo of New Orleans jazz and blues. She was particularly fond of blues singer Bessie Smith and entertained her friends by singing some of Smith's songs.
In November 1927, Jackson had had enough of Aunt Duke's zero tolerance parenting and migrated to Chicago to live with her aunts Hannah and Alice Clark. They took their niece to Greater Salem Baptist Church, where her ebullient singing overwhelmed the congregation's subdued worship service. Nevertheless, it was at Greater Salem where Jackson met the Johnson Brothers. She joined their quartet, singing alongside Louise Lemon. Historians consider the Johnson Singers to be one of the first groups to incorporate gospel singing techniques into their performances.
While working a variety of entry-level jobs, Jackson accepted invitations to sing for revivals and funerals throughout the South Side. Her first two records were cut for Decca Records in May 1937, but when the discs failed to sell and Jackson refused to record blues, Decca dropped her. Newly married to Isaac "Ike" Hockenhull, Mahalia opened a hair salon to make extra money. She also served as a song demonstrator for Thomas A. Dorsey, who dubbed her the "Empress of Gospel."
Persuaded in 1946 to once again try her hand at recording, Jackson cut discs for the New York City–based indie Apollo Records. Her initial singles did not sell well and almost ended her recording career, but a last-minute decision to have her record a Reverend W. Herbert Brewster composition, Move on up a Little Higher, proved a smashing success. From then on, Jackson was the top gospel singer of the late 1940s and early 1950s, recording such best-selling discs for Apollo as In the Upper Room, Even Me, Dig a Little Deeper and How I Got Over.
Jackson's singing debut at gospel announcer Joe Bostic's first Negro Gospel and Religious Music Festival at Carnegie Hall in 1950 was so successful that she appeared on that hallowed stage several years in a row. She toured Europe for the first of many times in 1952 and signed with major label Columbia Records in 1954. That same year, she hosted The Mahalia Jackson Show on CBS Radio. The program lasted only a year because CBS had difficulties securing sponsors for a show hosted by a black woman.
Meanwhile, Jackson's Columbia records not only sold in great quantities to her African American church base, but they also became popular with white consumers. She appeared on prime time television variety shows and in several films, notably St. Louis Blues (1958), Imitation of Life (1959) and The Best Man (1964). Her performance at the 1958 Newport Jazz Festival was captured on the concert film Jazz on a Summer's Day (1959). Her 1961 television series Mahalia Jackson Sings won the Silver Dove Award from the International Catholic Association for Radio and Television.
Jackson was an ardent supporter of the Reverend Dr. Martin Luther King Jr. and his efforts on behalf of the Civil Rights Movement. From singing for the "walking people" during the Montgomery bus boycott and at the August 1963 March on Washington to organizing fundraising events in Chicago, Jackson was instrumental in helping the Civil Rights Movement gain ground. Likewise, Jackson was one of King's favorite singers; at his lowest moments, King called Jackson on the telephone and asked her to sing for him. He especially loved her rendition of Dorsey's Take My Hand Precious Lord. After King was assassinated in Memphis in 1968, Jackson sang at his funeral.
Even as Mahalia Jackson's health began to wane she maintained an arduous schedule of touring in the United States and worldwide. The strain eventually became too much; she died in Chicago on January 27, 1971, of complications from a nearly lifelong struggle with sarcoidosis. It took three funeral services in two cities to give the first Queen of Gospel her due. She is buried in Metairie, Louisiana.