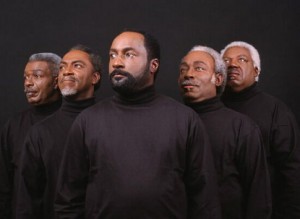 Singer, songwriter, producer and pastor Luther Lee Barnes was born March 10, 1954, in Rocky Mount, North Carolina, to the Reverend Fair Cloth (F.C.) and Willie Mae Barnes. Raised in a musical family—his father and the Reverend Janice Brown scored a massive hit in 1983 with their down-home duet Rough Side of the Mountain—it was a given that young Luther would gravitate to singing gospel. He first joined the Barnes Juniors, a quartet comprised of his uncles, then moved to another family group, the Sunset Jubilaires.
Barnes became the Sunset Jubilaires' lead singer after graduating high school. His smooth delivery distinguished the quartet from their contemporaries, who employed more conventional shouting preacher style lead singers. The Sunset Jubilaires debuted on vinyl with 1981's I'll Take Jesus for Mine, released on Atlanta International Records (AIR).
While singing with the Sunset Jubilaires, Barnes earned a music education degree from St. Augustine's College in Raleigh, North Carolina, and became a high school music teacher and private piano instructor. The pull to sing gospel music, however, kept him equally focused on a professional music career.
In the mid-1980s, Barnes founded the Red Budd Gospel Choir, a traditional-leaning ensemble headquartered in his father's Red Budd Holy Church in Rocky Mount. The choir released several albums for AIR, including He Cares (1984), See What the Lord Has Done (1986) and a holiday album, It's Christmas Time Again (1989). Employing a team of Barnes family members as singers and musicians, the choir delivered several hit singles, including So Satisfied, Spirit Fall Fresh, I'm Still Holding On (featuring a lead vocal by Barnes' cousin, Deborah) and the Bobby Womack–penned No Matter How High I Get. The choir earned a Stellar Award nomination in 2007 for its album Somehow Someway.
Although increasingly busy with the Red Budd Gospel Choir, Barnes maintained his leadership of the Sunset Jubilaires. The quartet continued to headline programs and make records for AIR, including It's Your Time, which received a 2005 Stellar Award for Traditional CD of the Year. The quartet's 2011 album, Another Level, produced singles Jesus Can Work It Out and Yet Love.
Given Barnes' smooth-as-silk vocal style, it was natural that he would eventually record a solo album. That album, Come Fly With Me, came out in 2002 and included a number of guest vocalists. Likewise, Barnes has guest soloed on a number of recordings by artists including the North Carolina Community Choir, Mississippi Mass Choir and Calvin Suggs & Friends.
In addition to the Stellar Award, Barnes and his gospel ensembles have earned a Vision Award, Gospel Music Workshop of America Excellence Award and Gospel Heritage Award, as well as nominations for Grammy and GMA Dove Awards. In 2005, Luther Barnes and the Sunset Jubilaires were inducted into the International Gospel Music Hall of Fame.
Ordained into the ministry in 2006, Barnes founded the Restoration Worship Center in Rocky Mount in 2014 and serves as its senior pastor. In 2016, Barnes released The Favor of God (Shanachie Entertainment, in association with SRT Entertainment) with the Restoration Worship Center Choir, which includes a number of Red Budd Gospel Choir alumni. The album is cited as a "contemporary take on the sound of his wonderful recordings with the Red Budd Gospel Choir."
—Robert M. Marovich