Louise "Candy" Davis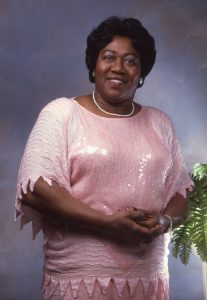 Born July 11, 1939, Louise "Candy" Davis began singing at age three.  As a teenager, she sang with a Birmingham group called the Guiding Stars.  During the 1960s, Davis turned her voice into a vehicle for peace by joining the Birmingham-based Alabama Christian Movement for Human Rights Choir.  The choir, under the direction of Carlton Reese, provided the music that encouraged the men, women, and children who put their lives in danger marching along the sidewalks of Birmingham in support of civil rights.
Davis married Leon Davis Jr. and they had four children.  She formed a group called Faith that included Eloise Gaffney, John Wes Lewis, Mary Pratt, Jim Hollins and Lawrence Sneed.  Their album Higher was released independently, then picked up by a Birmingham label called Prestige.  When Frank Williams, executive director of Malaco Records' gospel division, heard the group, he signed them and in 1984 re-issued Higher as Lord Lift Us Higher.
Davis made three more albums for Malaco: Better than Blessed (1985), Then These Trials (1987) and Live In Birmingham (1989), the latter recorded at St. John Baptist Church in Birmingham.  She also contributed a Christmas song, Happy Birthday, Jesus, to the 1985 various artists compilation Malaco at Christmastime.  Frank Williams and David Curry Jr. (Mississippi Mass Choir) were among the musicians who assisted Davis on her Malaco albums.
Better than Blessed spent 65 weeks on the Billboard Top Gospel Albums chart, making it all the way to number five.  The title track, co-written by Davis and Dr. L. C. Jones, her booking agent at the time, became Davis's signature song.  This straightforward selection about the importance of salvation over material goods showcased Davis's robust deep voice and impeccable sense of timing.  Nearly thirty years after its release, the song received a second life when a YouTube video of a toddler singing along with Davis on Better than Blessed went viral.
Louise "Candy" Davis passed away in Birmingham, Alabama, on November 12, 2005, at age 66.