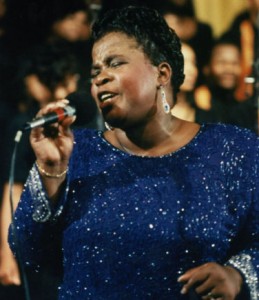 When she was accepted into the Mississippi Mass Choir in 1988, Lillian Lilly couldn't have imagined that the journey would lead to her roles as a chief lead singer for the choir and a solo recording artist for Malaco.
Born in Wesson, Mississippi, Lillian Lilly (née Jointer) and her twin sister, Carolyn, organized a gospel-singing group called the Two Star Juniors, so named because their mom and aunt sang as the Two Star Singers. After adding additional personnel and securing engagements around the area, the Two Star Juniors became the Traveling Stars.
After the group disbanded, Lilly continued to appear locally as a gospel soloist. She opened programs organized by Leon "Pop" Williams that featured such nationally acclaimed artists as the Mighty Clouds of Joy and Slim & the Supreme Angels.
In 1979, Lilly recorded her first solo single, I Got a Feeling that Everything Is Going to Be Alright, at Reverend Haran Griffin's Talk of the Town Studio in Jackson, Mississippi. Released on the studio's eponymously titled label, the record was so popular the Jackson Southernaires invited her to open for them.
Lilly first heard Frank Williams' announcement about forming the Mississippi Mass Choir on Pop Williams' radio broadcast. She dutifully sent Frank her demo tape, was invited to audition in person and was overjoyed to learn that she was selected for choir membership. That would have been enough for Lilly, but when Frank's wife, Emma, was unable to participate in the choir's debut album, Lilly was asked to take Emma's place as lead vocalist on I Just Can't Tell You (How Good God's Been). After hearing Lilly's rendition, Frank assigned her the song henceforward.
Frank was so impressed with Lilly's voice that he wrote It's Good to Know Jesus expressly for her to sing on the Mississippi Mass Choir's 1990 sophomore release, God Gets the Glory. Three years later, she sang it in tribute to Frank at his funeral service.
Forged in the crucible of the church, Lilly's vocal contributions for the Mississippi Mass Choir led Malaco to offer her a contract to record two solo albums. Gotta Have Faith was released in 1997 and her sophomore effort, The Other Part of Me, which included a new version of It's Good to Know Jesus, came out in 1999.
Lilly continued to lead songs at Mississippi Mass Choir appearances and on recordings, such as When We Get Up (2005), Go Tell It on the Mountain (2007) and Lord, You're the Landlord (2012). In 2005, Lilly participated in the Malaco Gospel Legends CD and DVD taping. Styled after
the Gaither Homecomings, Gospel Legends featured Lilly in a duet with the Reverend F.C. Barnes on his 1983 smash hit, Rough Side of the Mountain.
Lillian Lilly continues to record. Her most recent selections are independently produced singles from 2015, Don't Miss God and God Has a Plan.