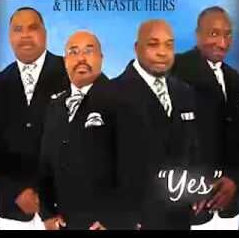 When Titus "Lil' Blair" Stallworth was born in Chattahoochie, Florida, on September 19, 1967, the Fantastic Violinaires had been touring the nation and recording popular singles and albums for nearly twenty years.  Back then, neither Stallworth nor the Violinaires could have known that their fortunes would someday be intertwined.
Stallworth joined the Fantastic Violinaires and received his nickname from none other than the quartet's legendary lead vocalist and spiritual leader, Robert Blair, who said: "Titus sounded so much like me that it was scary."  During his health struggles, Blair tapped Stallworth to be his heir apparent.
Thus, when Blair passed away on March 19, 2001, at age 70, Stallworth assumed the reins, renaming the group Lil' Blair and the Fantastic Violinaires.  But in 2009, some members wanted to tour separately as the Fantastic Violinaires, so Stallworth avoided confusion by renaming his group Lil' Blair and the Fantastic Heirs.  They signed with Malaco's 4 Winds imprint at the 18th American Gospel Quartet Convention in Birmingham, Alabama.  D. A. Johnson, then executive director of Malaco's Gospel Division, lauded the name change as a way to honor the Violinaires' legacy and signal a willingness to be different: "Lil' Blair is much too young and talented to spend his entire career as what may be perceived by some to be a gimmick or tribute band."
Lil' Blair and the Fantastic Heirs recorded their debut album Yes, for 4 Winds in 2011.  Produced by Ray Braswell Jr., the album featured a handful of new songs, including the title track, penned by quartet singer and Malaco executive Darrell Luster, as well as fan favorites from the Violinaires' back catalog.  The catalog songs included Robert Blair's Please Answer this Prayer and Wilson DeShields' The Love of Jesus.  The North Carolina Community Choir cameoed on the album.  Stallworth parlayed his rising star in the quartet world into a silver screen appearance.  He starred in the independent film Gospel Good, Gospel Bad, Gospel Ugly (2012) directed by James House and Michael Buie.
In 2013, Lil' Blair and the Fantastic Heirs teamed with the other Violinaires aggregation for Reunited…Live in Richmond, Virginia, also released on 4 Winds.  The album reprised several of the Violinaires' most beloved songs, including Old Time Religion and Children Are You Ready.  Today, Stallworth and the Fantastic Violinaires are back as a unified touring and performing aggregation.