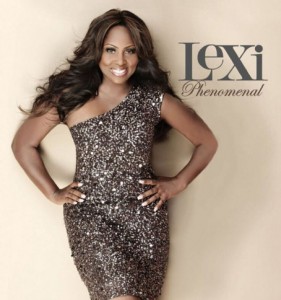 In her singing, gospel artist and television and radio personality Lexi Allen, aka Lexi, blends the sultry styles of Saturday evening with the sanctified sound of Sunday morning.
She was born Alexis Marie Nucklos in Columbus, Ohio, on October 2, 1967. Although Lexi enjoyed singing, she considered the competition too stiff to ever make it as a professional artist.  Nevertheless, while attending Bowling Green State University, she learned that producer Michael Brooks was looking for talent to release on Lection, a Christian/gospel subsidiary of Polydor Records.  She traveled to Detroit and met Brooks, who remembered her from the time she opened for his group, Commissioned.  He listened to her demo tape, liked it, and soon Lexi was dividing her time between college classes in Ohio and a studio in Detroit.
Her debut album, Call Her Lexi, came out in June 1990.  While it produced a single, the Brooks-penned "Dedicated," and sold well enough for a debut album, Call Her Lexi stalled in the marketplace when Lection went under.  Lexi set her singing career aside to earn a college degree.  She also married Michael Allen, who became her producer.
After signing with boxer Evander Holyfield's Real Deal imprint, Lexi released the single I'm a Winner (1999).  Three albums followed: …And That's the Way it Is (2001), A Praise in the Valley (2004) and What Heaven Hears (2005).  Although Lexi received positive responses from her fans, and A Praise in the Valley earned a Stellar Award nomination, her recordings ultimately suffered from poor distribution and promotion.
Then, after a two and a half year battle with cancer, Michael Allen passed away.  "Musically we were a dynamic duo," Lexi told Da Gospel Truth in 2009.  "We were like Warryn and Erica Campbell of Mary Mary.  It's devastating losing your husband, your business partner, and your best friend."
While recovering from the loss, Lexi recorded a telephone message for the Word Network.  The job got her in the door of the television network and by 2006 she was hosting the Word Network Church with Lexi.  Her own talk show, The Lexi Show, followed.  Lexi was a mainstay on the Word Network until 2010.  She became a regular guest on the nationally-syndicated radio program, The Yolanda Adams Morning Show, hosting the segment, "Inside Inspiration with Lexi."
DA Johnson brought Lexi to Malaco, and her sole album for the label, 2012's Phenomenal, produced two singles.  One, Burn it All Down, showcased her brassy soprano voice, while the Journal of Gospel Music described Abide as a "shoulder-rocking love-praise bathed in a rich and delicious urban AC groove."  Both songs made it into the top twenty of Billboard's Top Gospel Singles chart.
In March 2018, with her new single In the Room just released to radio, Lexi co-hosted the Stellar Gospel Music Awards Pre-Show with Lonnie Hunter.  The single is from her album, Just Listen, released by Motown Gospel on June 8, 2018.