L.A. Gospel Messengers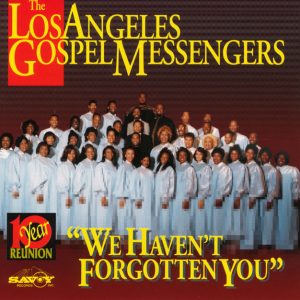 Since its founding more than three decades ago, the Los Angeles Gospel Messengers choir has crisscrossed the country, participated in philanthropic endeavors, garnered industry awards and helped launch the careers of some of today's most respected gospel artists.
The Reverend James Cleveland, a master at organizing and promoting mass choirs, assembled the Los Angeles Gospel Messengers in October 1982 out of young adult singers, songwriters, music ministers and musicians serving various churches in the Los Angeles area. The choir officially debuted with a public concert on January 31, 1983.
Cleveland's longstanding association with Savoy Records ensured that the L.A. Gospel Messengers had a label home from the start. I'm Giving My Life Up to You was the group's debut album. Released in 1983, the album showcased a choir with a thoroughly contemporary gospel sound tempered only by Cleveland's traditional gospel timing, which he learned from Thomas Dorsey and Roberta Martin, among others. The Gospel Music Workshop of America named the Gospel Messengers the Contemporary Choir of the Year in 1990 and 1991.
Rev. James Cleveland and the L.A. Gospel Messengers (1991) was the final album to feature the choir with Cleveland, who died in February 1991. The album was resplendent with traditional-meets-contemporary gospel songs performed by top-shelf soloists culled from the group. It stayed on Billboard's Top Gospel Albums chart for a good portion of 1992 and was nominated for a Soul Train Music Award that same year.
Choir member Kurt Carr was named Cleveland's successor. He oversaw the choir's tenth anniversary and reunion in October 1992, which produced a Cleveland tribute album, We Haven't Forgotten You (1994). The album made Billboard's Top Gospel Albums chart and received a Grammy nomination. Pastor Calvin Bernard Rhone, another Gospel Messengers member, succeeded Carr as music director in 1997. He organized the group as a tax-exempt nonprofit organization in 1999. In 2008, the Gospel Messengers established the Luminosity Awards to recognize soloists, groups, choirs, radio announcers, pastors and other contributors to the growth and development of gospel music.
The L.A. Gospel Messengers have performed for a variety of functions, most notably Dionne Warwick's AIDS benefit and for Divas Simply Singing, a Los Angeles area HIV/AIDS benefit concert hosted by television actress Sheryl Lee Ralph's DIVA Foundation. The choir sang at a campaign rally for U.S. presidential hopeful Michael Dukakis, and more recently, they appeared on the American Music Awards program supporting American Idol finalist Ruben Studdard.
A charter member, the Reverend Quincy D. Fielding Jr. was named the Gospel Messengers' music director in 2010 and remains its leader. Fielding and Praise and Worship pioneer Kurt Carr are among the Los Angeles Gospel Messengers alumni who have branched out into solo careers and formed their own choirs, continuing Rev. James Cleveland's work in the new millennium.