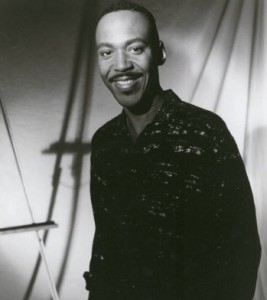 Considered one of the architects of the 1980s gospel choir sound, Roy Keith Pringle was born on August 6, 1952, in Detroit, Michigan. Although he grew up in that city's robust Church of God in Christ community, by the late 1960s, he was accompanying the youth choir at Detroit's historic New Bethel Baptist Church.
While pursuing a degree from Los Angeles City College, Pringle attended the Reverend James Cleveland's Cornerstone Institutional Baptist Church. One Sunday, Pringle was invited to play the organ for the collection portion of Cornerstone's service. Cleveland liked Pringle's playing and asked him to participate on a recording session with the Salem Inspirational Choir of Omaha, Nebraska. Pringle made his recording debut on that 1978 Savoy album, singing alongside Cleveland on Curtis Burrell's I Don't Feel No Ways Tired and accompanying the choir on organ.
On January 6, 1979, Pringle formed the Pentecostal Community Choir. Call Him Up, a selection on the choir's Savoy Records debut, True Victory, helped the choir earn a GRAMMY nomination. It became a staple of church choir repertory. The title track of 1981's When All God's Children Get Together was as beloved as Call Him Up, especially among child and youth choir directors, who taught it to their young singers.
Pringle, having become a celebrity in the gospel music community, decided to try his hand as a solo gospel artist. His first solo album was I Feel Like Going On (Hope Song, 1983), but it was Perfect Peace (Onyx, 1984) that solidified his solo career. Bolstered by production from "Maestro" Thomas Whitfield and backing vocals from the Thomas Whitfield Company, Perfect Peace sat on Billboard's Top Spirituals LP chart for more than a year. All to You, another solo album, came out on Muscle Shoals Gospel in 1987 and was distributed by Malaco Records.
By 1990, Pringle was back in the choir business. His 1988 Savoy release with the Pentecostal Community Choir, No Greater Love, hit No. 1 on the Billboard Top Gospel Albums chart. Another charter, 1991's Magnify Him, featuring the Angelic Voices of Faith, was released on Muscle Shoals Gospel.
Pringle then disappeared from the gospel music limelight, leaving fans perplexed. He officially returned on September 26, 2009, with a live album recording at the Fellowship Dallas Church in Dallas, Texas. Nothing Too Hard for God, released the following year on Platform Music, included a remix of Call Him Up. Pringle is now minister of music at the "Exciting" West End Baptist Church in San Antonio, Texas, and releases solo CDs.
On his 2011 single, Through Merciful Eyes, Pringle describes the glimmer of hope he encountered during those dark days that kept him out of the gospel spotlight. He said God told him: "Oh no, brother, you aren't finished yet. I have some more work for you to do." The singer adds: "He gave me favor when I didn't think anybody loved me."