Johnathan Greer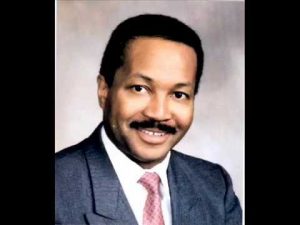 A gospel organist, choir director and church leader, Dr. Jonathan Greer II was born June 4, 1942, to Bishop Jonathan Greer Sr. and Vanilla "Dear" Thompson. The young Jonathan grew up in his father's Chicago church, Light of the World United Church of Christ, a denomination founded by his grandfather, Bishop G.G. Greer Sr.
Greer followed in his father's footsteps by becoming a musician, accompanying church services on the organ and later by entering the ministry. His two albums of organ instrumentals of gospel songs, hymns and spirituals were released by Nashboro Records in 1968 and 1970. He even accompanied WLAC disk jockey Bill "Hoss" Allen on organ for the latter's Creed Records collection of inspirational reflections.
Greer first recorded for Savoy Records in 1977. Recorded Live in Nashville, Tennessee featured the Inspirational Choir of the Pentecostal Tabernacle Church of God in Christ, a church Greer founded in Nashville. Soloists on the album included Myke Hendricks, Marva Starks, future Bobby Jones and New Life singer Emily Harris and fellow organist Novella Williams.
That same year, Greer left Pentecostal Tabernacle to assume the pastorate of Jones Avenue COGIC in Atlanta, succeeding its longtime leader, Bishop George Briley, who passed away in 1975. Greer changed the name of the church to Cathedral of Faith COGIC and inaugurated a regular television broadcast of its worship services. In 1979, Greer and the church's Showers of Blessings Choir supported Dorothy Norwood on her two-disc live album for Savoy called The Mountain Climbers.
The title track of He's Worthy, Greer's 1990 Savoy album with the Cathedral of Faith Choir, showcased the troupe's full-throated sound and a rhythm section propelled by a funky bass guitar. Not only did the album earn a Grammy nomination, it also introduced vocalist LaShun Pace to the ears of Savoy executives. Her lead vocal on Kelvin Lenox's The House of the Lord so impressed the Reverend Milton Biggham, director of Savoy's gospel division, that he signed her as a solo artist in 1991 and her sisters, the Anointed Pace Sisters, the following year.
Greer and the Cathedral of Faith Choir recorded another live album for Savoy, Just Jesus, in 1993. It featured the choir singing classic gospel songs such as Love Lifted Me, Jesus That's My King, Just to Behold His Face and the title track.
In 2015, Greer, now a bishop and serving as senior pastor of Atlanta's Divine Love Fellowship Church, re-recorded Just Jesus on an independently released album of the same title, produced by Dorothy Norwood.