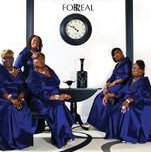 Vocalist Jewell Taylor of St. Louis, Missouri, wanted to organize an all-female gospel group to proclaim in song that Jesus is alive. By early summer 2001, her vision was made manifest in Jewell & Converted. To reach traditional and contemporary gospel fans, the award-winning ensemble combines the spirited sound of quartet singing with modern gospel music.
Jewell & Converted received its first national accolade in 2003 when it was named Female Quartet Group of the Year at George Stewart's American Gospel Quartet Convention. The following year, the quartet took first place at Esther Wooten's annual Exclesisa Showcase in Jackson, Mississippi.
Phoenix Gospel Records signed the ladies to a recording contract in November 2006 and released their debut CD, Live in St. Louis. The album inspired young quartet singer Keith "Wonderboy" Johnson to add Jewell & Converted to his Rising Stars of Quartet Vol. 1 compilation for Malaco Records. The Malaco CD opened even more doors for Jewell & Converted, including an appearance on BET's Bobby Jones Gospel.
In August 2011, Jewell & Converted officially signed with Malaco Records. A year later, they released their sophomore CD, For Real. The album debuted at No. 32 on the Billboard Top Gospel Album chart and produced one single, the effervescent Hallelujah. This set in motion additional media opportunities. In October 2014, the group appeared on the Atlanta Live television show and the Allstate Gospel Superfest soon after. The group also participated in a tour of Italy with Associazione Culturale Centro Jazz Torino, appearing on its Blues al Femminile showcase.
The Journal of Gospel Music called Keep On Praising, a single from Jewell & Converted's latest CD, Unexpected, "near impossible to listen to sitting down."
In addition to Taylor, current members of Jewell & Converted are Lydia Jones, Ni'Asia Hatch-Boyd, Bablen White and Kisha Robinson.