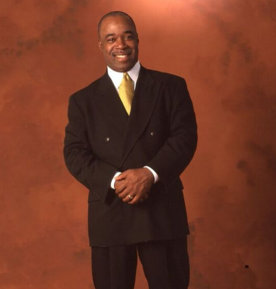 With a husky singing voice and a passion for training and directing mass choirs, James Bignon evokes the Reverend James Cleveland in both sound and mission.
Born an only child in Savannah, Georgia, Bignon was surrounded by a musical and churchgoing family. It was no surprise, then, that he carried on the family tradition by singing in church from age five and writing sacred songs by age 11. Recognizing their son's talent, the Bignons made sure James received formal music lessons and was trained in music theory.
While a student at Lucy C. Laney High School in Augusta, Georgia, Bignon organized his first mass choir. He received his first professional gospel music experience while touring with legendary singer Dorothy Norwood. In 1983, the Reverend Milton Biggham of Savoy Records invited him to be the music minister for the newly formed Georgia Mass Choir. Bignon's singing, accompanying, songwriting and directing skills helped the choir earn a solid following.
Bignon also wrote for, and recorded with, the Gospel Music Workshop of America Mass Choir. The GMWA Mass Choir recorded his He'll Make Everything Alright in 1991 and All the Way in 1994. In 1995, Bignon expanded his performance resume by leading a ten-member choir in Michael Flatley's Irish stage musical Riverdance.
As a solo artist and leader of the 400-voice Deliverance Mass Choir, Bignon released a string of albums on Atlanta International Records. The earliest AIR releases were How Excellent Is Thy Name (1991) and Use Me (1992). He received a Male Vocalist of the Year nomination from the Stellar Awards for the title track of Heaven Belongs to You (1994). Other AIR albums include What a Mighty God We Serve (1996) and On the Other Side of Through (1998).
In 2009, Bignon and the Deliverance Mass Choir recorded Evolution: If I Hold Out My Change Will Come for his Omni Global Music Network label. The MasterPeace (2010) includes Bignon's rendition of Peace Be Still, a remarkably accurate cover of James Cleveland and the Angelic Choir's 1963 original. God Is Great, released in 2015, is Bignon's most recent album.
By conducting his own Gospel Music Workshops, James Bignon continues to prepare church and mass choirs for vocal excellence.