J Moss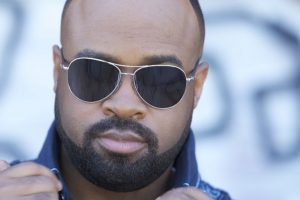 Like a gospel music version of The Truman Show, listeners have had a front row seat to hear J Moss grow from a seven-year-old singer into a music tastemaker.
James "J" Moss was born to Missionary Essie and Bill Moss Sr. in Detroit, Michigan, on September 22, 1971. Given his family's gospel music legacy, which started with matriarch Mattie Moss Clark and continued through his aunts the Clark Sisters, and his parents' own Bill Moss and the Celestials, it was inevitable that J would enter the family business. "Dad stuck a microphone down my throat when I was five years old," J said.
At age seven, J recorded his first solo single, Great God Almighty, for the family's Bilesse label. He then joined his older brother Bill Jr., already emerging as a gospel vocalist, songwriter and keyboardist, as one-half of the Moss Brothers. The duo's initial singles on Bilesse included Children Don't Go Off with Strangers and When Teddy Bear Took His Last Ride, an answer song to Red Sovine's 1976 novelty, Teddy Bear.
The Moss Brothers hit their musical stride as a duo when they joined their mother on the 1984 Atlanta International Records (AIR) release Nobody Knows. Bill's teenaged baritone and J's prepubescent tenor evoked popular male vocal groups Ready for the World and New Edition, albeit with a religious message. On How We Started, from Got to Seek the Lord (AIR, 1985), the two explained how their music career began. Cry It Out (AIR, 1988) continued the Moss Brothers' formula of playful lead trading to electronic arrangements, all designed to appeal to young music fans.
After high school, J enrolled in Michigan State University. "I wanted to be a normal kid just like everybody else," he said years later. "But I realized at a very young age that the Lord had a tugging in my spirit—you have a call on your life and you need to get on it." So after two years of college, J returned home to reboot his music career. He cut a couple of albums for a local label called Aviday, but neither disc made any noise.
Around this time, J met fellow Detroiters Paul Allen and Michael Kearney. Together they formed the influential producing team PAJAM. The team's first production credit was for Finally Karen, a 1997 gospel solo album by J's aunt Karen Clark Sheard of the Clark Sisters. Since then, PAJAM has produced for R&B and soul groups in addition to gospel artists like Sheard, Men of Standard and Hezekiah Walker.
J ultimately found his artistic home in urban AC gospel. The J Moss Project was released in 2004 on GospoCentric Records, the same label that launched Kirk Franklin & the Family. The follow up, 2007's V2 . . ., was a masterpiece of postmodern gospel. The contemplative Just James (2009), V4 . . . The Other Side (2012) and his first album not with GospoCentric, Grown Folks Gospel (2014), showcased a more mature singing style.
In 2015, the Moss Brothers reunited on Your Will, from Bill Jr.'s 2017 Salathiel Records album, Live with Third New Hope: Songbook of Praise & Worship.