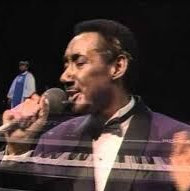 Franklin "Frank" Delano Williams, a gospel music vocalist, musician, recording artist and record company executive, was born to Leon "Pop" and Amanda Williams on June 27, 1947, in Smithville, Mississippi. He began his quartet singing career as a preteen, joining the Southern Gospel Singers and becoming one of the earliest members of the Williams Brothers, the family quartet Pop organized in 1960.
By 1964, Frank had exited the Williams Brothers to join his brother, Huey Paul Williams, in the Jackson Southernaires. Founded in the 1940s in Jackson, Mississippi, the Jackson Southernaires started out as a local group. Anchored by the combined talents of Frank and Huey and vocalist Willie Banks, the quartet scored a record deal in 1963 with Song Bird, a subsidiary of Peacock Records. Between 1963 and 1974, the group waxed several hits for Song Bird, though none were bigger than 1968's mournful Too Late, led by Huey. In 1973, the quartet was popular enough to host its own television program called Gospel Unlimited.
The Jackson Southernaires signed with Malaco Records in 1975 and released a string of albums over the following 20-plus years. In 1979, Frank became head of the label's gospel division. His 1985 signing of the Williams Brothers brought the rest of the family aboard. Frank even reunited with the group for its 1986 Malaco album, Hand in Hand.
In addition to being an accomplished vocalist, Frank was a gifted musician. A guitarist, he accompanied Malaco artists such as the Angelic Gospel Singers, Louise "Candy" Davis, the Evereadys, the Gospel Keynotes and the world-famous Pilgrim Jubilees and Soul Stirrers.
His work was not limited to the quartet community. Williams was among the lead singers on the Florida Mass Choir's 1987 Malaco release, Let the Holy Ghost Lead You. Possibly buoyed by the success of the Florida Mass Choir, Frank was determined to gather the best voices in Mississippi into a mass choir. With the support of Malaco and music director David R. Curry Jr., Frank's dream was made manifest as the Mississippi Mass Choir. The choir's debut recording in 1988 hit No. 1 on the Billboard Top Gospel Albums chart and set a gospel industry record for most consecutive weeks on the albums chart (45).
On March 22, 1993, Frank was at the airport in Savannah, Georgia, returning home from a gospel program, when he suffered a fatal heart attack. He was 45 years old, cut down in his prime. He was buried at Garden Memorial Park in Jackson, Mississippi.
—Robert M. Marovich