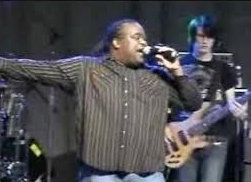 Edward S. James Jr., better known as Eddie James, is a musician, praise and worship leader, record and publishing company owner, nonprofit executive, singer and songwriter. Among his many achievements is founding the Phoenix Mass Choir, where he serves as lead vocalist and principal songwriter.
Born in Phoenix, Arizona, and raised in the Church of God in Christ, James accepted Christ at age eight and began pursuing music ministry the following year. In 1993, James organized Eddie James Ministries. Under this umbrella James established several musical organizations, including the Phoenix Mass Choir, ColourBlind, Asaph, Tab and Ultimate Call.
James and the Phoenix Mass Choir released their national debut album, Higher, on James' own Fresh Wine Records in 1995, distributed by Intersound. Recorded at Shepherd of the Valley Lutheran Church in Phoenix, the album features ten songs, all written by James. It soared to No. 3 on the Billboard Gospel Albums chart.
Propelled by this success, James tackled a solo album, Grace, the following year. It was also released on Fresh Wine with distribution by Intersound. James' third album, 1998's Psalm 23, found him recording with a culturally diverse group of five young men and women called ColourBlind. The group's Fresh Wine project was picked up by CGI Records and featured some production by an up-and-coming Aaron Lindsey. Entering the world of musical drama, ColourBlind created Break the Walls to lead conversations among high school and college youth about the perils of drugs, violence, pre-marital sex, racism and dysfunctional families.
The year 2008 saw the release of Freedom, an album featuring James' group Ultimate Call. The title track has become one of James' best-known compositions. Two years later, James recorded another solo album, God, as well as Victory, with the Phoenix Mass Choir; both were recorded for Fresh Wine Records. Victory included appearances by the Oakwood College Choir and James Huey, who performed When I Think About the Lord.
The two-CD release Shift (Fresh Wine, 2012) found James working within the rhythmic praise and worship style popular in multicultural megachurches. The discs feature solo turns by Bryn Waddell, Jayna Cullens, Nick Franklin and Alicia Evans.
The year 2013 witnessed the Malaco release of Jehoshaphat's Song and Thank You for Being There by James and the Phoenix Mass Choir. The Journal of Gospel Music called Thank You for Being There "a heartwarming ballad of gratitude that could be directed to a mother, father, grandparent, spouse, friend, or the Most High for their steadfast support in good times and bad."
James serves the Karen Wheaton Ministries as Music and Performing Arts Director for its youth ministry, Chosen, and ministers with Wheaton and Chosen on the Trinity Broadcasting Network. He also ministers at Wheaton's the Ramp, a youth center in Hamilton, Alabama, and runs a rehabilitation and restoration program called DreamLife. With locations in Ocoee, Tennessee, and Junction City, Georgia, James and the DreamLife team help high school and college age youth recover from alcohol and drug abuse, depression and suicide, cutting and gang violence.
Besides by his own groups, James has had his songs rendered by such artists as Judy Jacobs, Helen Baylor, Brooklyn Tabernacle Choir and the Mississippi Mass Choir. March 2019's Jesus is the latest collection of rhythmic and contemplative praise and worship songs for which James has become well known.