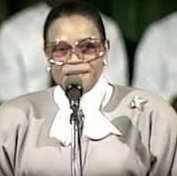 A pivotal figure in the rise of the gospel mass choir movement, Mattie Moss Clark was a richly gifted singer, musician, arranger, songwriter, director and music minister. She was also the matriarch of a gospel music dynasty that has spanned more than seven decades and three generations.
Mattie Juliet Moss Clark was born to Fred John Moss and Mattie Juliet Walker in Selma, Alabama, on March 26, 1925. Musical formation was very important in the Moss household and everyone played an instrument. Mattie began taking piano lessons at age six. By 12, she was the chief musician for her mother's Holiness Temple Church of Christ in Prayer.
In 1947, after studying music at Selma University, Clark joined her sisters in Detroit. Her association with the Church of God in Christ (COGIC) began in Detroit when she joined Bishop William Rimson's Greater Love Tabernacle COGIC and became its minister of music. Later, she served as music minister for the city's Bailey Temple COGIC, under the leadership of Bishop John Seth Bailey.
After much persuasion, Eugene Potts organized a mass choir representing a myriad of Michigan COGIC churches. The choir debuted at the COGIC State Convention in 1959. In July 1961, still under Potts' direction, the choir released its debut album, Lord Do Something for Me, on Kapp Records. Clark wrote and sang lead on the initial single, Going to Heaven to Meet the King. Occupying both sides of the 45 r.p.m. record, the song possessed the spirited, no-holds-barred performance that came to characterize Clark's style.
By the summer of 1963, when Fred Mendelsohn signed the Southwest Michigan State Choir to Savoy Records, Clark was the group's director and trainer as well as its songwriter and arranger. On September 21, 1963, Savoy rolled its portable recording equipment into Bailey Temple COGIC to capture the Southwest Michigan State Choir in service. The company's labors were rewarded: Wonderful, Wonderful became the first of a string of electrifying live albums for Savoy that featured Clark and the mass choir.
On Savoy, Clark and her choir were unstoppable. They released three hot singles in a row: I Thank You Lord, Write My Name Above and Climbing Up the Mountain. These up-tempo numbers captured on record the unfettered joy of Pentecostal worship. By the beginning of 1965, None But the Pure in Heart and Write My Name Above, the single it spawned, were in the top five of Billboard's Hot Spirituals LPs and Singles charts, respectively.
Clark's tenacious quest for perfection enabled her to teach her newest compositions to hundreds of choristers in a short period of time. She was a no-nonsense director—stories about her sternness and gutsy interactions with choir members and musicians, including her own daughters, are the stuff of legend.
By 1968, Clark was director of the International Music Department for the COGIC denomination. During her more than 25-year tenure, Clark formed the International Mass Choir, which sang at the annual United National Auxiliary Convention (UNAC), and "A Star is Born," a showcase for emerging musical talent within the denomination.
In 1973, Clark assembled and promoted her daughters Jacqueline "Jacky," Dorinda, Denise "Niecy," Karen and Elbernita "Twinkie" as a gospel singing group called the Clark Sisters. The group cut its first album the following year for their Uncle Bill and Aunt Essie Moss' Bilesse Records. But it was the ladies' 1981 You Brought the Sunshine, the title track of their first album for the Sound of Gospel label, that brought them the greatest national exposure. Although some churchgoers were dismayed when DJs began spinning the rhythmic praise song at dance clubs, You Brought the Sunshine secured for the Clark Sisters a performing and recording career that continued into the 21st century.
Clark is reported to have written more than 100 songs and recorded more than 35 albums during her career. The Clark Conservatory of Music, which she founded in Detroit in 1979, helped train singers and musicians. Clark was one of the editors of Yes Lord, the first-ever hymnbook for the COGIC denomination. In 1981, Trinity College in Pennsylvania gave her an honorary degree.
In addition to the Clark Sisters, Mattie Moss Clark's gospel singing legacy includes grandchildren Kierra "Kiki" Sheard and J. Drew Sheard, nephews Bill Moss Jr., J Moss (part of the production team PAJAM) and Lorenzo, Larry and Derrick (of the Clark Brothers).
Dr. Mattie Moss Clark died September 22, 1994, in Southfield, Michigan, but not before enjoying a reunion of her beloved Southwest Michigan State Choir. She and the reunion choir ran through an album's worth of their most popular songs, singing with as much power and conviction as they did 30 years prior. She was inducted posthumously into the Gospel Music Hall of Fame in 1997.