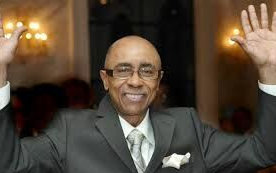 Known as "Father Hayes" for being a father figure to his Cosmopolitan Church of Prayer congregation, Dr. Charles G. Hayes built the "Warriors" into one of the most successful radio and recording church choirs in gospel music history.
Hayes was born in Verbena, Alabama, on December 10, 1937, to Mamie Lee and Will Hayes. The family attended Mount Olive Baptist Church in Keystone, Alabama, where, at age ten, Charles made his public singing debut by performing Move on Up a Little Higher for the congregation. Hayes was also a musician; he accompanied the Original Golden Voices of Birmingham, Alabama, on piano. He visited Chicago for the first time in 1955 when the Golden Voices appeared on a gospel program there.
After high school graduation, Hayes returned to Chicago to accompany the choir at Bishop James Anderson's Redeeming Church of Prayer. Hayes was ordained in 1957 and on April 28, 1959, founded Tabernacle Church of Prayer on Chicago's South Side. He changed the church name to Universal Kingdom of Christ and later to Cosmopolitan Church of Prayer.
Under Hayes' leadership, Cosmopolitan incorporated worship practices employed successfully at Redeeming Church and First Church of Deliverance, two iconic Spiritual churches in Chicago's African American community. Also like these churches, Cosmopolitan inaugurated a weekly radio broadcast of its Sunday evening service. Hayes' charisma and the choir's high-energy singing drew large crowds to Cosmopolitan and legions of listeners to its radio broadcast.
The Cosmopolitan choir was founded by a handful of members on October 25, 1959. It first prospered under the direction of Dr. Charles Clency, a formally trained musician and accompanist for Mahalia Jackson. Clency arrived at the church in 1965 and, with Hayes' blessing, taught the choir to blend classical music and traditional gospel music elements into its singing. It was a strategy he learned by studying the Voices of Tabernacle and the Harold Smith Majestics, two successful Detroit gospel recording choirs. Chedwick Allen Cathey succeeded Clency as music minister and still serves in this capacity.
Although the Warriors possessed several powerful lead vocalists, most notably Dianne Williams and Michelle Brown, Hayes also led songs, his tunefully strident voice instantly recognizable. He was a staunch traditionalist who wanted the Warriors to stay true to gospel fundamentals, regardless of stylistic changes in the music.
The Warriors have recorded more than 30 albums during a nearly 60-year career. They cut their first records in the early 1960s for Harold Freeman's Chicago-based Righteous label. The choir made its national debut in 1966 with the Checker Records release Tell Me How Do You Feel, a two-part single led by
Cynthia Price and originally recorded in 1963 by the Utterbach Concert Ensemble as Out of the Wilderness.
In 1979, Hayes and the Warriors signed with Savoy, where they enjoyed their greatest popularity. Several Savoy albums entered Billboard's gospel albums charts. Jesus Can Work It Out (1980) was the choir's best-known and earliest hit on Savoy. It was first recorded four years earlier for the label by Rev. Maceo Woods' Christian Tabernacle Choir. An unplanned but effective vamp by Dianne Williams ("How you gonna pay your rent / All your money's spent?") propelled the Warriors' version to iconic status. A 2005 remix of the song made Billboard's R&B chart and earned the choir two Stellar Awards, for Choir of the Year and Video of the Year.
Other fan favorites from the choir's Savoy sessions include Heaven Is My Goal and Pray for Me (1979), Every Time I Feel the Spirit (1982), The Bridegroom Cometh and I Know the Lord Laid His Hands on Me (1984), Step Back, Let God Do It and Everyday Is a Day of Thanksgiving (1991) and Jesus Is Mine (1996). In 1999, Savoy released The Collection, a 12-song retrospective of the Warriors' most popular singles.
During his lifetime, Hayes and the choir earned many accolades, including the keys to several cities and awards from the Gospel Music Workshop of America. The Warriors perform regularly at the Chicago Gospel Music Festival, and Cosmopolitan's annual Pre-Memorial Day Midnight Musical is a mainstay on the gospel music community's calendar of events.
Hayes received his doctorate from the Institute of Religious Science in 1973 and an honorary doctorate from St. Martin's College and Seminary in 1974. One of the longest serving pastors of a Chicago church, Dr. Charles G. Hayes led Cosmopolitan Church of Prayer until he died on February 12, 2014.