Dr. C.J. Johnson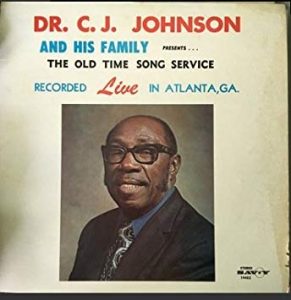 The recordings of African American congregational and long-meter hymn singing by
Dr. C. J. Johnson and his Old Time Prayer Meeting or Old Time Song Service may have seemed anachronistic when released in the 1960s and 1970s, during times of great experimentation in gospel music.  Their enduring popularity, however, demonstrated a demand by gospel music enthusiasts for reminders of a simpler time.
Dr. Claude Joseph (C. J.) Johnson was born in Douglasville, Georgia, to Will and Cora Reid Johnson, on May 16, 1913, and moved with his family to Atlanta in 1916.  When his mother died, Johnson and his siblings were sent to live with their paternal grandmother, Sarah Farley Johnson.  Johnson's musical proclivities were likely inspired by his father, a shape-note singing instructor who traveled throughout Georgia in the 1920s and 1930s.
A quick study, the young Johnson sang his first song in front of a church congregation by age five, was saved at age seven, and preached his trial sermon by age eight.  He began pastoring the Antioch Baptist Church in Barnesville, Georgia when he was 12; the deacons built a platform for him to stand on so he could be seen over the lectern. Years later, he told gospel singer and historian Horace Clarence Boyer that he and the pioneering gospel singer Clara "Georgia Peach" Hudmon were members of the same church and sometimes sang together.
Johnson married Elizabeth Daniels, whose astute management of household expenses enabled her husband to attend seminary school during the Great Depression (she would later co-write some of his songs).  Johnson became pastor of St. Joseph Missionary Baptist Church in Atlanta, and in 1963, he received a Doctor of Divinity degree from Carver Bible Institute.  Also a songwriter, Johnson's composition, I Want to Go Where Jesus Is, sounded as if it had been written in the nineteenth century.  It was his first single, released on the Atlanta-based Ziontone label in 1965.
Around this time, Deacon Harrison Smith, an Atlanta gospel announcer, told Fred Mendelsohn of Savoy Records about Johnson.  Mendelsohn liked what he heard, signed Johnson to a Savoy recording contract, and reissued the Ziontone single on Savoy.  On Savoy, I Want to Go Where Jesus Is became a gospel hit.  Simultaneously, the company cut the pastor's first album, You Better Run (1965).
Between 1965 and the early 1980s, Johnson released a total of twenty albums on Savoy.  Some were comprised of Johnson and his congregation singing spirituals, gospel songs (old and new), common-meter hymns, and long-meter hymns—all unaccompanied by any instrumentation.  Others were recordings of his sermons and yet others a combination of singing and sermons.  Twenty-six of the recorded songs were Johnson's own compositions.  Most of the albums were recorded at St. Joseph Missionary Baptist Church, though one from 1966 was recorded live at New York's Rockland Palace and a 1970 issue was captured at Rocky Mount Bethel Baptist Church in Lukersville, Georgia.
In a 1985 interview with historians William and Janice Dargan, Dr. C. J. Johnson stated emphatically: "I'm not a gospel singer, I'm a gospel preacher.  I sing because I love it; I preach because I must.  He died July 20, 1990, at age 77.