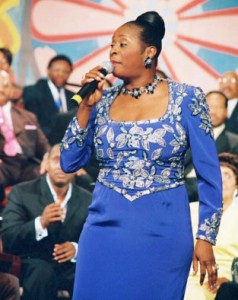 Few artists can include "toured with Stevie Wonder and the Rolling Stones" on their resume, but gospel singer Dottie Peoples can.
Born the eldest of ten children to Robert and Althea Milton in Dayton, Ohio, on August 12, 1950, Peoples fell in love with gospel music during the summers she spent as a child, visiting her grandmother, Matilda (Bay) Branscumb, in Birmingham, Alabama. "I did my first little ole song around eight or nine years old," Peoples wrote. "I remember singing and running out of the church. I got scared because everybody was shouting!"
As a teenaged gospel singer, Peoples attracted the attention of former Caravans member Dorothy Norwood. Norwood successfully persuaded Peoples' mother to let young Dottie travel with the Dorothy Norwood Singers. Peoples was part of Norwood's group when the Rolling Stones invited them to join their concert tour, which also included Stevie Wonder.
After her tenure with the Dorothy Norwood Singers, Peoples returned to Dayton and sang jazz in clubs until 1979, when she relocated to Atlanta, Georgia. She attended Atlanta's Salem Baptist Church, where she rededicated herself to gospel music: "The first solo I did [at Salem] was called If You Move Yourself. It changed my whole life because I stood there and realized that I was blessing people. I knew I didn't want to sing jazz anymore. I just want to sing for the Lord. I got back to my roots and I've been singing gospel ever since."
Salem's pastor, Dr. Jasper Williams Jr., had organized a record label called Church Door. Peoples served as the company's general manager and producer until 1993, when she signed as a solo artist with Atlanta International Records (AIR). Live at Salem Baptist Church (1993), her first album for AIR, showcased the Salem Baptist choir that drew her back to singing gospel.
The title track of her 1994 AIR CD, On Time God, became a gospel radio hit. It introduced Peoples to a larger audience and garnered her four Stellar Awards. She recorded several other albums for AIR, including Testify (1997), God Can & God Will (1999), Show Up & Show Out (2000) and Churchin' With Dottie (2002), on which she was joined by her pastor and former boss, Dr. Jasper Williams Jr., on Get Right Church. During the 1990s, Peoples hosted a radio show on Atlanta's WAOK. Fellow WAOK announcer, Brother Esmond Patterson, nicknamed her the "Songbird of the South."
When Malaco Music Group acquired AIR in 2005, the catalog and stable of AIR artists, including Peoples, who had just released Live in Memphis—He Said It, came with the deal.
In the late 2000s, Peoples formed her own label, DP Muzik Group, where she has released several singles and albums, including Do It!, which was nominated for a Dove Award, and I Got This—Live!, recorded in April 2012 at Siloam Church International in College Park, Georgia. In 2014, her cover of Quincy Jones' Everything Must Change showcased her jazz roots.
In addition to Stellar Awards, Dottie Peoples has been honored by the NAACP, the Gospel Music Workshop of America's Quartet Division and by BET's Bobby Jones Gospel television program. She has earned Grammy and Dove Award nominations. On March 9, 2013, she received a Lifetime Achievement Award during the 14th Allstate Gospel Superfest in Atlanta.
—Robert M. Marovich