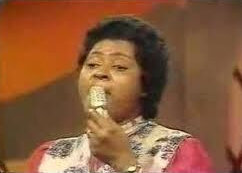 No other group associated with gospel music's so-called Golden Age (1945–1960) sang with more urgency than the Original Gospel Harmonettes, led by powerhouse vocalist Dorothy Love Coates. And few others, with the notable exception of the Staple Singers, were more in sync with the concerns of the civil rights movement of the 1960s.
In her 1964 composition The Righteous on the March, Dorothy described an army comprised of "soldiers of every faith" and "warriors of every race." The singer's stirring treatment of The Hymn from the same year was especially pointed, particularly when she cried out in anguished contralto tones, "When the President was assassinated, the nation asked, 'Where's God?' When the little children lost their lives in the church bombing, the nation asked, 'Where's God?' I got the answer for you: 'God is still on the throne.'"
"Dorothy's most impressive achievement," gospel music historian Anthony Heilbut has written, "is her emotional and musical response to the struggles of her people. As a citizen of Birmingham, Alabama, and a co-worker of Dr. Martin Luther King, she has experienced first-hand the scabrous hatreds and pitiful inconsistences of racial prejudice. She has often introduced her performance of Lord Don't Forget About Me . . . with the plaint, 'Thinking of the problems of this world in general and of my people in particular, I stop and wonder how much longer must we suffer?' Dorothy's voice, sometimes burnished with suffering, usually vibrant with hope, is always a singular agent for her people's progress."
Born Dorothy McGriff on January 30, 1928, she married Willie Love of the famous Fairfield Four in 1946, when she was 16, but the marriage was short-lived. She later married another quartet singer, Carl Coates, basso of the Sensational Nightingales.
When Dorothy's minister father abandoned his wife and six children, she quit school to help support her mother. At age ten, while scrubbing white people's floors and working other menial jobs during the week, Dorothy accompanied several Baptist church choirs on piano on weekends. Inspired vocally by Queen C. Anderson and Mahalia Jackson, she later formed the Royal Gospel Singers with two sisters, a brother and others, together becoming the first Birmingham gospel group to have its own radio program.
In 1947, Dorothy joined the Harmoneers, a Birmingham group led by Evelyn Starks, a pianist whose style reflected the influences of Arizona Dranes and Roberta Martin. The Harmoneers, who soon became known as the Gospel Harmonettes, also included Mildred Miller Howard, Vera Kolb and Willie Mae Newberry. The group, with new member Odessa Edwards in tow, made four 78 r.p.m. singles for RCA Victor Records in New York City in June 1949. Dorothy was absent from the sessions, having left the group and moved to Newark, New Jersey, to take care of her ailing daughter. She was back by July 1951, however, when the group began recording for Specialty Records. Billed as "the Original Gospel Harmonettes," they remained with the Hollywood label for five years. Hits such as Get Away Jordan, I'm Sealed, No Hiding Place, You Must Be Born Again, That's Enough and 99 ½ Won't Do, all featuring Dorothy's impassioned leads, made them a major attraction on the national gospel circuit.
Starks retired from touring in 1953 but continued playing piano on many sessions through 1956. Her replacement was the brilliant Detroit pianist Herbert "Pee Wee" Pickard, who switched to organ at sessions where Starks was present. Future members would include singers Annie Bailey, Barbara Jean Reed, Cleo Kennedy and Dorothy's sister Lillian McGriff. After leaving Specialty, the group recorded for Andex, Savoy, Vee-Jay, Hob, OKeh and Nashboro before disbanding in 1971.
After a brief break from performing in the early '70s, Dorothy resumed touring and recording with Dorothy Love Coates and Her Singers, who included sister Lillian. The group recorded albums for Savoy later in the decade, including 1978's A City Built 4 Square. They stopped making records in 1980 but continued to perform in concert. Dorothy also appeared in the 1990 motion picture The Long Walk Home starring Whoopi Goldberg and Sissy Spacek and in 1998's Beloved starring Oprah Winfrey and Danny Glover.
Dorothy Love Coates succumbed to heart disease in Birmingham on April 9, 2002. Among the many stylistic disciples she left behind were Cissy Houston and Mavis Staples.
—Lee Hildebrand