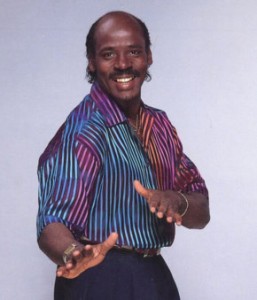 Jazz great Dizzy Gillespie, pioneer recording preacher Elder J.E. Burch and gospel singer Donald Malloy have something in common: Cheraw, South Carolina, is their birthplace.
Born in Cheraw to James and Loreain Malloy on November 28, 1955, Donald Malloy made his first public singing appearance at age six when Loreain planted him in front of the Pleasant Grove AME Zion Church congregation one Sunday morning and instructed, in no uncertain terms, "Boy, you better sing!" Sing he did, and he continued to pursue his passion for music while earning a degree in business administration from Lincoln Business School.
After he moved to New Jersey, Malloy joined the Voices of Unity choir and delivered a smooth-to-salty lead vocal on the title track of its 1980 Savoy disc, I'm Heaven Bound. He backed Andraé Crouch on his 1984 television appearance on NBC's Saturday Night Live. Joining Donnie Harper and the New Jersey Mass Choir was a fortuitous decision for Malloy, as his featured vocal on the choir's version of I Want to Know What Love Is, a song they recorded in 1985 with the rock band Foreigner, brought him national attention as a soloist. Capitalizing on Malloy's newfound popularity and solo career aspirations, Savoy Records produced his debut, Holy Spirit, in 1986. Though the disc failed to chart, his follow up did. There Is No Limit, a 1990 release on Atlanta International Records, reached No. 39 on the Billboard Top Gospel Albums chart.
It was another three years before Malloy put out another record, this time for A&M Records. Thanks to A&M's muscular promotion machine, Malloy's third solo album, 1993's Everything Will Be Alright, rose higher than its predecessor, peaking at No. 27. The following year's release, Hold On . . . to the Promise, released by CGI/Light and recorded live at Newark's Revival Temple Church of Deliverance, went as high as No. 36. The end of the decade found Malloy back with Savoy, where his Jesus Reigns, recorded with the Columbia Praise Fellowship Choir, was issued in 1999 but failed to chart.
Malloy has also appeared as a guest vocalist on projects released by such leading lights as Bishop Jeff Banks and the Revival Temple Mass Choir, the Georgia Mass Choir and the Reverend John P. Kee. He was named New Jersey Male Vocalist of the Year by the New Jersey State Gospel Music Association and earned a Dove nomination for his song There Is No Limit in 1991. Everything Will Be All Right, from 1993, earned him a Stellar Award nomination for Best Contemporary Male Vocalist.
When Malloy decided to record his sixth full project, he wanted it to be a live recording from his birthplace of Cheraw. Released independently in 2012, Finally Home: Live showcased the singer's ability to render both traditional and contemporary gospel songs. Produced by Isaiah D. Thomas, the album featured the Elements of Praise singers as background vocalists. One cut, Prayer Will Fix It, was written by Reverend Milton Biggham, former executive director of Savoy Records and pastor of the Mount Vernon Baptist Church in Newark, New Jersey, where Malloy now serves as minister of music.