Clara Ward & The Famous Ward Singers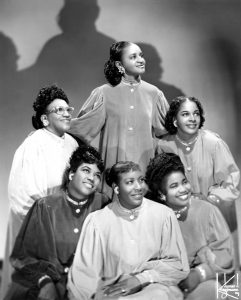 In 1931, seven-year-old Clara Ward and her nine-year-old sister Willarene (better known as "Willa") began performing with their mother, Gertrude, in Philadelphia. Gertrude first called the group "The Consecrated Gospel Singers," then simply "The Ward Trio." The three singers, with the two girls alternating as piano accompanists, initially appeared at churches in and around their hometown, but after creating a sensation at the National Baptist Convention in Chicago in 1943, they began touring widely. In 1949, having expanded the lineup to include singers Henrietta Waddy and Marion Williams, the group traveled to Los Angeles and cut their first records for the Miltone label. Curiously, none of the songs they recorded in Los Angeles were ever issued on Miltone, but many soon appeared on other labels, including Dolphin's of Hollywood, Gotham and Savoy.
By 1950, the Ward Singers were the hottest female gospel group in the land. Two of their songs—Surely God Is Able and Move Up a Little Higher, both released by Gotham that year—became major gospel hits, said to have sold more than a million copies each. Gotham billed them as "The Famous Ward Singers (of Philadelphia)" and the name stuck, albeit without the name of the city. The group also recorded over the years as "Clara Ward and the Ward Singers." Clara's distinctive arrangement of the traditional hymn How I Got Over, recorded in 1950 for Gotham, was soon successfully covered by Mahalia Jackson for Apollo Records in New York. It became Jackson's signature song.
By 1951, the group was formally recording for Savoy and continued doing so for the next 11 years. Other singles and albums also appeared during that period on such labels as Duke, Dot and Vanguard. Later recordings were issued on Columbia, Verve, Philips and Nashboro until Clara's death in 1973 at age 48.
"With Clara as lead singer and arranger, the Famous Ward Singers not only defined the female Gospel sound but set about establishing the demeanor of the female group in performance," gospel historian Horace Clarence Boyer wrote in his forward to Willa Ward's 1997 book How I Got Over: Clara Ward and the World-Famous Ward Singers. "They walked into an auditorium or church straight and proud like movie stars. . . . In the early days they wore regular church robes but soon adopted elegant suits or dresses, which quickly gave way to elaborate sequined evening gowns. To complete their dramatic image, they often wore coiffured wigs. . . ."
Unhappy with the low pay they were receiving from the group's manager, Gertrude Ward, Waddy, Williams, Frances Steadman, Kitty Parham and Esther Ford quit the group in 1958. Together they formed the Stars of Faith, who recorded albums for Savoy and Vee-Jay before Williams left in 1965 to launch a solo career. Gertrude had no trouble finding new members for the Ward Singers, however.
The Ward Singers had been queens of the gospel circuit during the 1950s, but by the early '60s they had found a new, largely white, and more lucrative mainstream audience for their show-stopping stage act and flamboyant attire, losing much of their African American church followers in the process. Such lively numbers as Down By the Riverside and When the Saints Go Marching In replaced many of the earlier gospel hits in their repertoire as they performed on major television network shows, in nightclubs and Las Vegas hotels and at Disneyland. They even toured for six weeks as an opening act for comedian Jack Benny.
Clara Ward was influenced early in life by gospel singers Queen C. Anderson and Clara "The Georgia Peach" Hudman. In turn, she greatly influenced the young Aretha Franklin, with whose father, the Reverend C.L. Franklin, the Ward Singers frequently toured during the 1950s. Miami-born Marion Williams (1927–1994) also influenced well-known musicians, particularly gospel great Alex Bradford and rock 'n' roll pioneer Little Richard, both of whom emulated her high-pitched "woos."
—Lee Hildebrand