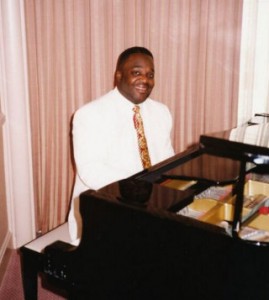 Born February 17, 1964, in Niagara Falls, New York, Elder Christopher Brinson moved with his family to nearby Buffalo, New York. He directed the adult choir at his father's church at age seven and later, with his brother and sister, organized the Brinson Trio.
In 1990 Brinson founded the Gospel Music Ministries (GMM) Choir in Winston-Salem, North Carolina. Initially comprised of 11 members, GMM grew to more than 100 voices in the process of preparing for its first music and arts convention. By the time the convention date rolled around, Brinson decided to include a live recording session as one of its highlights. The live recording teamed GMM with such leading lights as Pastor Shirley Caesar, Pastor John P. Kee and Charisma, but the album was never released. Two years later, Brinson and GMM released a 12-inch maxi-single of three contemporary-arranged traditional gospels for Slackson Records of Terry, Mississippi.
Malaco debuted the North Carolinian and his team on the 1997 album What If God Is Unhappy. Recorded at Malibu Studios in High Point, North Carolina, the album's title track became one of the top gospel tunes of its season with its controversial message and thunderous harmonies supported only by the thump of a kick drum. The album spent 17 weeks on the Billboard Top Gospel Albums chart in 1997, peaking at No. 32.
Two years later came Brinson and the Ensemble's sophomore effort, Got Just What I Wanted—Live in Baltimore. The album, recorded at New Antioch Baptist Church in Baltimore, featured a solo spot by fellow Malaco Music Group artist Carolyn Traylor.
The year 2002 saw the release of Christopher Brinson & the Ensemble's third Malaco album, A Better Way. Produced by Cedric Thompson, the album featured another song that would become indelibly linked to Elder Brinson: We Must Change (Lay Down). Dianna Brinson-Hobbs, Brinson's younger sister and founder of the nonprofit Empowering Everyday Women Ministries (EEW), is lead vocalist. Other cuts include My Peace, with Brinson's daughter Tamela contributing lead vocals, and Pastor Nancy Wilson soloing on the title track.
From there, Brinson and his group were signed by Black Smoke Music Worldwide, which re-issued We Must Change. The single made Pastor Corey Condrey's 2011 various artists package for Black Smoke, CoCo Brother Presents Gospel Mix V.
Elder Christopher Brinson is preparing a new live choir recording for October 19, 2019.
—Robert M. Marovich