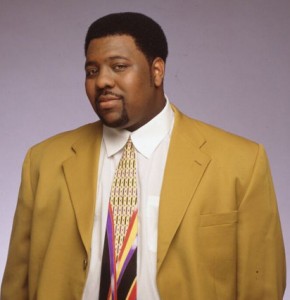 Born September 28, 1968, in Chicago, Illinois, to Elder Collin Ford and Emma J. Ford, Cedric LaVance Ford grew up on the city's West Side and honed his skills as a singer and musician in his grandfather's church. He also sang with his family's group, the Ford Singers.
As he moved into adulthood, Ford's music influences spanned the worlds of gospel and R&B—from Rance Allen, Commissioned and the Clark Sisters to Stevie Wonder and Donny Hathaway. In 1994, he provided background vocals and assisted Howard Smith, a member of Andraé Crouch's backing ensemble, with the vocal arrangements for Daniel Winans' album Not in My House. Ford sang alongside Smith, Angie Winans and his brother Deidrick Ford on the project, which featured other members of the Winans family, including BeBe and David "Pop" Winans, as well as Mark Kibble of the vocal group Take 6.
In 1996, Ford wrote and co-led He'll See You Through and wrote and co-led I'm Saved for gospel soloist Faith Howard's 1996 album, He's Got Everything, produced by Dorothy Norwood and Albertina Walker.
Having discovered Ford during the production of the Faith Howard album, Norwood produced his debut album, Cedric Ford featuring Visions—A Choral Ministry. It was recorded live at New Christian Valley Full Gospel Church and released on the Muscle Shoals Gospel label in February 2000. Among the album's ten selections were songs written by Ford's Chicago music colleagues Percy Gray Jr. (I Need Your Spirit), Rose and Tony Harper (In This Place) and Armirris Palmore (See the Salvation). Ford returned the favor by recording with Norwood on her two-part hit You're the Reason on her 1999 Malaco album, The Lord Is a Wonder.
Cedric Ford featuring Visions—A Choral Ministry was nominated for a Stellar Award and earned Ford nominations from the Gospel Music Workshop of America (GMWA) as part of its annual Gospel Music Excellence Awards.
Ford led the title track of the very first album by Bishop H. Daniel Wilson & the Voices of the Valley from New Christian Valley Baptist Church, now known as Valley Kingdom Ministries International, in Chicago's southern suburbs. The same church gave birth to the award-winning Shekinah Glory Ministry (SGM), a praise and worship ensemble that recorded for Kingdom Records. Ford leads his own compositions, Dwell Among Us and Reign Jesus, on SGM's 2001 debut album, Praise Is What I Do, as well as Awesome & Mighty on the 2004 Stellar Award–nominated
project, Live. Both SGM albums were certified Gold by the Recording Industry Association of America (RIAA).
He also led Let Me Lean with the GMWA Men of Promise on the choir's 2000 Tyscot album, Live in New Orleans, and wrote and led God Is a Right Now God with the Reverend Milton Biggham and the Georgia Mass Choir on their 2012 Savoy release, I Still Have a Praise.
In May 2009, Tyscot Records released Ford's Created 2 Worship. The album, recorded live at the New Community Baptist Church in Houston, Texas, featured his new group, the Worshippers. It hit the Billboard Top Gospel Albums chart and was nominated for a Stellar Award.
Not limited to music, Ford was nominated for an NAACP Theatre Award for his appearance as Reverend Majors in David E. Talbert's 2001 musical stage play, The Fabric of a Man. The presentation was released on DVD in 2005. Ford has also traveled internationally, ministering in song during various mission trips to South Africa and Kenya. In 2009, he became the first gospel artist in history to perform at a New Year's Eve Midnight Mass in Italy.
Elder Cedric Ford resides in Houston, Texas, where he serves at Reflections of Christ's Kingdom (ROCK) World Outreach International, under the leadership of Apostle Dana Carson. Ford also leads the gospel group Worship Unlimited.