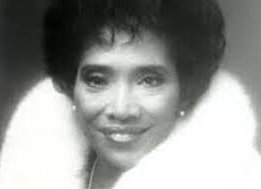 Although Cassietta George never achieved the high level of recognition afforded other members of the famous Caravans such as Shirley Caesar and Inez Andrews, the Memphis-born singer-songwriter was, in the words of gospel music authority Bill Carpenter, "beloved by her gospel peers for her sheer vocal technique (a thin voice but dramatic performance style punctuated with warm pauses and pointed vocal leaps that never failed to garner rhapsodic ovations in concerts)."
Born on January 25, 1929, Cassietta Baker George began singing in her father's church at age four. She formed an all-female a cappella quartet called Songbirds of the South during the early 1950s and briefly sang with W. Herbert Brewster in his Brewster Ensemble before moving to Chicago and joining the Caravans in 1954. She left the group after less than two years but rejoined in 1960 and stayed for five more years.
Two retrospectives of the Caravans' finest work are in the Malaco Records catalog. Best of the Caravans includes George as lead vocalist on 1962's Remember Me, a James Cleveland composition that gave the singer her first radio hit. The other collection available on Malaco, Going Home, contains 1964's Walk Around Heaven All Day, an exquisite self-penned ballad on which she was the sole vocalist. It became her signature song and has been recorded by numerous other artists over the years. That disc also includes four other songs led by George, among them a duet with group leader Albertina Walker on Stand by Me.
George launched a solo career in 1965, beginning with ten albums for the Hollywood-based Audio Arts label through 1979. She also reunited with other former Caravans from time to time for concerts and recordings, including the 1978 album Share! with Walker, Josephine Howard and Delores Washington. George's 1984 Savoy album I Want to See Jesus, recorded live in Memphis at Presiding Bishop G.E. Patterson's Temple of Deliverance Church of God in Christ with the church's Voices of Bountiful Blessings Choir, is particularly powerful.
Cassietta George died of cancer in Los Angeles on January 3, 1995.
—Lee Hildebrand