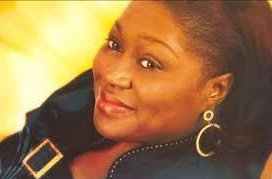 Known as the "Texas Powerhouse" for her gutsy and expressive gospel singing, Carolyn Traylor was born in Greenville, Texas, on July 30, 1960, to Malissa and Cranford Taylor. She was inspired to sing by her father, who performed with his brother in a local quartet.
Traylor sang in church until a snide remark from a church member temporarily turned her off from music ministry. While Traylor was attending Texas Southern University in Houston, a classmate named Cynthia Sharp Williams overheard her singing informally. Williams invited her to come to a choir rehearsal at Philadelphia Missionary Baptist Church, and though Traylor was reluctant, she eventually relented. It turned out that Philadelphia's music minister was Olivia Branch Walker, a pianist, singer and gospel recording artist until her untimely death in 1993 at age 39. Traylor joined the choir, and she even recorded with Walker on the latter's 1986 solo project, New Life.
Traylor's singing career was interrupted when her parents took ill and she returned to Greenville to care for them. A local promoter named Dessie Armstrong gave Traylor her next taste of professional gospel singing when she invited her to open for a quartet program at Greenville's historic Municipal Auditorium. Willie Neal Johnson, who was on the program with his Gospel Keynotes, was so impressed with Traylor that he brought her on tour with him and introduced her to Roy "Mr. Malaco" Wooten. Wooten signed her to Malaco.
Her first album for the label, Don't Wanna Be Left Behind (2000), included the popular Nobody Can Beat God Being God and Better Than Blessed. Arguably her best-known song is the churchy title track of her 2006 Malaco release, There's a Story Behind My Praise. She sang Peace Be Still as a duet with Paul Porter of the Christianaires on Malaco's Gospel Legends (2005). Her bluesy approach to gospel is especially evident on the world-weary Waiting (2012) and Good To Me (2013).
Traylor recently launched her own Traylor Made label. March 2017's live album, The Best of My Story, and its single, Unchanging Hand, are her latest releases on the imprint.