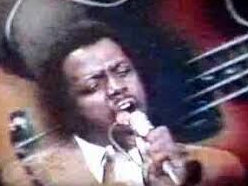 Born March 10, 1951, Calvert O. "Mac" McNair Sr. was a lead vocalist for Willie Banks and the Messengers. He led Deny Yourself and Never Met a Man on the quartet's 1982 Black Label album, God Is Still in Charge, and I Wanna Be Ready and He Believes in Me for its 1983 HSE release, In the Name of Jesus.
McNair joined the Sensational Nightingales around 1984 to fill the space vacated by Charles Johnson, who after many years as lead vocalist for the 'Gales left to form his own group, the Revivers. Traveling the world with the Nightingales, McNair's recording debut with the quartet was on the 1984 Malaco album, I Surrender All. He soloed on several of the songs, including the radio favorite Prodigal Son. He can also be heard alongside Jo Jo Wallace and Horace Thompson on the title track of the group's 1985 album, Church, Let's Get Ready for the Resurrection, and leading a Golden Gate Quartet–styled story song, Hard Headed Jonah.
Despite a cancer diagnosis that numbered his days, McNair entered the studio to record his first and only solo album, I'm Free. Produced by McNair and Darrell Luster for Malaco, the album includes two Nightingales songs, Face to Face and We've Got to Keep Moving On.
McNair died of cancer on May 5, 1996, at age 45, and was buried in Academy Height Memorial Cemetery in Taylortown, North Carolina. I'm Free, released posthumously in late 1997, showcases Calvert McNair's talent for soulful, passionate gospel singing.