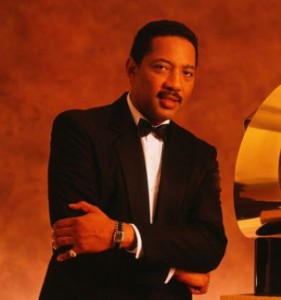 Although best known for hosting Bobby Jones Gospel, the longest-running black gospel music variety show on television, Ambassador Dr. Bobby Jones started his gospel music career singing with, and later forming, contemporary groups and choirs.
Born in Henry, Tennessee, on September 18, 1939, Jones attended Tennessee State University and went on to earn a Ph.D. in curriculum leadership from Vanderbilt University. After teaching elementary school, Jones worked for book publisher McGraw-Hill but kept his hand in music. He sang with the Meister Singers and the Royal Gospel Singers and, in 1974, formed the Love Train Choir.
In 1976, Jones organized the New Life Singers (later shortened to New Life), a small gospel group that sang in the rock- and R&B-flavored contemporary style popularized by the Hawkins Family and Andrae Crouch. Group members included Emily Harris, Francine Belcher, Stefania Stone Frierson and Nuana Dunlap (Harris, a popular lead vocalist with New Life, died in 2011 at age 66).
During the 1980s, Bobby Jones and New Life released Martin, a tribute to the Reverend Dr. Martin Luther King Jr., on the 20th anniversary of the historic March on Washington. They appeared on soul-star-turned-preacher Al Green's gospel LP Precious Lord (Myrrh). In 1984, Jones and country singer Barbara Mandrell won a GRAMMY Award for their duet I'm So Glad I'm Standing Here Today.
In 1990, Jones and New Life recorded I'll Never Forget, their first and only album for Malaco Records. The album featured new songs as well as a contemporized arrangement of the classic hymn In My Heart (a.k.a. Lord, I Want to Be a Christian). Emily Harris led the ballad All the Way, while album producers Frank, Melvin and Doug Williams joined Jones as guest soloists on two of the eight tracks.
But Jones' passion was television. Premiering on the BET network on January 27, 1980, his variety program, Bobby Jones Gospel, gave independent gospel artists their first opportunity to appear before a national television audience. It was one of BET's top-rated programs until it was cancelled on July 31, 2016.
Jones has also produced radio programs and formed the annual International Gospel Industry Retreat, which brought individuals from all sectors of the industry together for networking, learning and performances. He even spearheaded an unsuccessful effort to bring a national gospel music museum and performance center to Fort Lauderdale, Florida. He was named Ambassador at Large for the island nation of Dominica in 2006.
In addition to earning a GRAMMY, Jones has received a Dove Award, several Stellar Awards and a presidential commendation from President George W. Bush. The Stellars now have a special award named in his honor: the Ambassador Dr. Bobby Jones Legends Award. Jones founded and continues to lead the Nashville Super Choir, which has fueled the solo careers of gospel singers such as Everett Drake and Beverly Crawford.