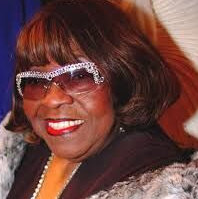 No one ever accused Albertina Walker of being shy. While growing up on Chicago's South Side, she was so enamored of Mahalia Jackson's singing that she was determined to meet the Queen of Gospel Music in person. One day, at age 13, she showed up on her famous idol's Chicago doorstep without invitation.
"Girl, you got so much nerves, and you even come up to my house and I ain't even invited you and you just refuse to leave!" Jackson told the youngster, according to Jackson biographer Laurraine Goreau. "Well, I can afford you because you remind me so much of myself when I was coming up."
The visits became more frequent. Sometimes Walker was joined by Jackson's paperboy, James Cleveland, who played piano while she sang. Jackson would critique their performance and offer advice.
Walker herself was named Queen of Gospel following her mentor's death in 1972. The unofficial coronation was controversial in some circles, considering that Walker had never achieved the international crossover appeal Jackson had enjoyed during the last two decades of her long career. In the gospel music community, however, Walker's contributions to the genre were unparalleled.
"[T]he throne must belong to Walker who probably has supported and groomed more famous gospel singers than anyone else in history," Bill Carpenter argues in Uncloudy Days: The Gospel Music Encyclopedia. "She alone is responsible for giving the first breaks to Rev. James Cleveland, Cassietta George, Inez Andrews, Dorothy Norwood and even to Shirley Caesar, among many others." And, having helped Cleveland found the Gospel Music Workshop of America in 1967, their influence and legacy now reaches people around the world.
Walker was born in Chicago on August 29, 1929, and began singing in the children's choir at West Point Baptist Church when she was four. Much later, before committing herself exclusively to gospel music, she briefly sang secular songs in Chicago nightclubs. She joined the Melody of Zion Gospel Singers in 1949, the Willie Webb Singers in 1950 and the following year became a member of a group led by Robert Anderson, another early influence on her singing style.
At an April 18, 1952, session with Anderson's Gospel Caravan for the Chicago-based United Records, Walker and other members of the group recorded two songs without their leader, both featuring the robust contralto voice of Walker and issued on States, United's sister label. The Caravans were thus born. They soon became the most popular largely female vocal group in the annals of gospel music.
Although she was the leader and manager of the Caravans, Walker did not keep the microphone to herself. During the group's heyday, roughly from 1953 to 1966, she shared leads with a succession of great singers. In addition to Cleveland,
the group's pianist from 1954 to '56, they included Bessie Griffin, George, Norwood, Andrews and Caesar. The Caravans signed in 1957 with Savoy Records, which also acquired rights to their earlier sides for States. All of their recordings for Savoy were issued on Gospel, a subsidiary of the Newark, New Jersey–based parent label. The Caravans moved to Chicago's Vee-Jay Records in 1962 but briefly returned to Savoy's Gospel label four years later.
The Caravans' star began to dim following Caesar's 1966 departure. The group labored on for several more years, recording for the Gospel, Hob and Jewel labels before Walker threw in the towel in the early '70s. Members of later editions of the group included future disco star Loleatta Holloway and singing pianist Willie James McPhatter.
The second act in Walker's career began in 1975 when she emerged as a solo artist with an album for Polydor Records. It generated little attention. In 1978, however, she re-signed with Savoy, which partnered her with Cleveland for a strong-selling album titled Reunion. The next release with her lifelong friend, 1979's Please Be Patient with Me, did even better and remains a classic of her extensive discography. In addition to the two discs with Cleveland, Walker made six more albums for Savoy between 1981 and '88 on which she was backed by various choirs. Later recordings appeared on the Benson, Word, Rejoice and Verity labels through 1997.
Walker was awarded a Grammy in 1995 for Best Traditional Soul Gospel Album for Songs of the Church: Live in Memphis, and she received a Dove Award for Traditional Gospel Album of the Year in 1997 for I'm Still Here. She was inducted into the Gospel Music Hall of Fame in 2001. Paved the Way, a reunion album of Walker with former Caravans members Andrews, Norwood and Delores Washington, was issued by Malaco Records in 2006. She also made guest appearances during that decade with Kurt Carr, the Gospel Music Workshop of America and the National Baptist Convention.
A smoker of cigarettes for many years, the lifelong Chicagoan suffered from emphysema. She was hospitalized and placed on a ventilator on her 81st birthday. She died some six weeks later on October 8, 2010.
—Lee Hildebrand