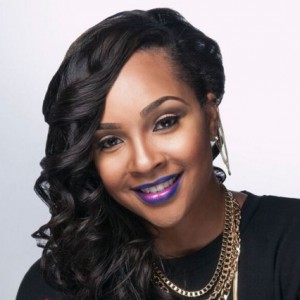 Born May 15, 1991, in St. Louis, Missouri, but spending her formative years in Huntsville, Alabama, Destiny Adia Andrews, a.k.a. Adia, is a singer-songwriter who specializes in Christian hip-hop and urban music.
Since Adia comes from a musical family with a studio in their home, singing, dancing and writing songs were just part of her routine. But she didn't just listen to gospel—she also drew early inspiration from pop icons such as Beyoncé, Christina Aguilera and Britney Spears.
Adia's first commercial single, March 2012's One Day at a Time (Emerged Records), was written and recorded in response to the 2011 Super Outbreak of tornadoes, one of the deadliest swath of storms in US recorded history. "One of my best friends lost her entire home," Adia told Matt Wake of AL.com. "I remember her calling me, screaming and crying, 'It's all gone! We lost everything!' I wrote that song thinking of her and her family." All proceeds from the single supported the storm victims.
With mentorship from producer Fredrick "Blaze" Crawford, Adia's career began to take off not long after the release of One Day at a Time. Most significantly, she was made a featured soloist on the soundtrack of Deitrick Haddon and the Voices of Unity's 2012 motion picture, A Beautiful Soul (Tyscot). On the soundtrack, she leads Incomplete and duets with Joint Heirs on Your Love Lets Me Down. A year later, she released her own single, Torn Identity, for Crawford's Champion Music Group.
In August 2013, Adia became the first female artist to sign with Xist Music, a record company founded by Terverius "T." Black, Sean Simmonds and John Weston Jr. Around the same time, Xist inked a long-term partnership with Malaco Music Group. The collaboration provided Xist with the freedom to expand the depth and breadth of its roster while giving Malaco a foothold in Christian hip-hop, rap and urban music. It also ensured Adia a national audience.
Rags to Riches, featuring Simmonds, was her debut single for Xist. It offers a hopeful message about how faith can overcome the physical and emotional damage done by alcohol and domestic abuse. Propelled by bursts of backbeats and echoes of the special choral section in Ricky Dillard and New G's More Abundantly, the praise anthem In Yo Seat was Adia's second Xist single.
Both singles heralded the August 2014 release of the Crawford-produced Behind Enemy Lines, Adia's sole album for Xist. In addition to Simmonds, the album teams Adia with such top-shelf artists as Jessica Reedy, Eric Dawkins and Xist label mate Gemstones. In August of that year, Behind
Enemy Lines peaked at No. 38 on the Billboard Top Gospel Albums chart. Continuing to work with Fred Crawford under his Champion Music Group umbrella, Adia released the single We All Want Love in August 2016.
—Robert M. Marovich