Sounds Of Blackness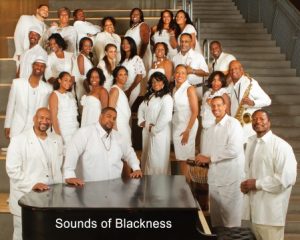 The multiple GRAMMY-winning and internationally acclaimed Sounds of Blackness, a vocal group with a repertory that mines every known style of African American music, was birthed out of a Minnesota college choir.
During the late 1960s, African American college students nationwide pressed administrations at their schools to offer more culturally relevant programs. For Macalester College in St. Paul, Minnesota, which sought to recruit more students of color, this resulted in a number of student-created black organizations. Among them was a 50-voice choir called the Macalester College Black Voices. In 1971, two years after the choir's founding by Russell Knighton, Gary Hines became the group's director. The name of the choir changed to Sounds of Blackness.
In 1990, after two decades of singing at the local level and appearing at national college gospel choir competitions, Sounds of Blackness had a change of fortune when Jimmy Jam and Terry Lewis signed them to their new label, Perspective Records. The group's 1991 debut, The Evolution of Gospel, originally a stage production, put them on the map.
Sounds of Blackness takes inspiration from a gamut of African American music giants—opera singer Marian Anderson to Duke Ellington to Prince. The choir's 1994 album, Africa to America: The Journey of the Drum, included spirituals, gospel, blues and jazz. Three years later, Time for Healing included the popular Hold On (Change Is Coming).
The choir traveled internationally, including to Africa, where they appeared at the Pan African Festival. The group worked with superstars from Stevie Wonder and Dolly Parton to Sting and John Mellencamp. In addition to recording, Sounds of Blackness produced stage musicals, among them a Christmas show and Music for Martin, a tribute to the Reverend Dr. Martin Luther King Jr.
In 2011, Sounds of Blackness released its tenth album, a self-titled project for Malaco Records. The album and its singles, Fly Again and Rise, underscored the ensemble's longstanding mission to use music to bring about healing, unity and hope. On the album, the group gives the Beatles' Hey Jude an urban adult contemporary spin and modernizes two spirituals, Soon Ah Will Be Done and Every Time I Feel the Spirit.
Among the choir's storied alumni are gospel singer Ann Nesby and R&B star Cynthia Johnson of Lipps, Inc. Nesby's daughter, Jamecia Bennett, continues her mother's legacy as a lead vocalist for Sounds of Blackness. Hines has produced albums for GRAMMY-winning gospel soloist Le'Andria Johnson in addition to producing Sounds of Blackness.
The infectious chorus of Have Fun, a song from the 2011 Malaco album, could well serve as the motto of Sounds of Blackness: "Let's have fun, do good and live well."