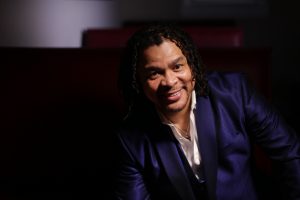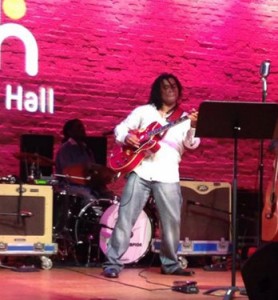 GRADY CHAMPION
Steppin' In: A Tribute to ZZ Hill will be released by Malaco Records be on April 26, 2019.
Mississippi-based, award-winning artist, Grady Champion, has been captivating audiences for over two decades. Champion has been the winner of prestigious Grammy and Blues Music Awards as well as the recipient of the 26th International Blues Challenge.
Born October 10, 1969 on a farm in Canton, Mississippi. The youngest of his father's 28 children, Grady joined his church choir at the age of eight. Hi first professional foray into entertainment was as a promoter for the rap label Sun Town Records. By the early 90s he embarked on a brief career as a rapper, performing under the moniker MC Gold. However, he soon discovered that he had a natural talent for the blues, and he incorporated hip-hop into blues music. After learning to play the harmonica, Grady released his first album, the self- released Goin' Back Home (1998.) He was quickly scooped up by Shanachie Records, with whom he released Payin' for My Sins (1999), and 2 Days Short of a Week (2001). In 2003, Champion and Kevin Bowe co-write "Trust Yourself" which was included on Etta James' album Let's Roll (2003) and winner of a Grammy Award for Best Contemporary Blues Album in addition to a Blues Music Award as the Soul/Blues Album of 2004.
Grady's next release was Live at the 930 Blues Café (2008.) Dreamin' (2011), was #1 album on the Sirius XM's Bluesville chart,[3] as well as earning two BMA nominations. In 2012, Tough Times Don't Last was released then in 2014, Grady signed a deal with Malaco records and released Bootleg Whiskey (2014) and One of a Kind (2016.) Grady's latest self-produced effort, Steppin' In, is A tribute to ZZ Hill who died 35 years ago April 27, 1984. Hill particularly inspired Grady because Hill's combination of blues & soul stylings helped to restore the blues to modern black consciousness.
"I play what I feel," says Grady Champion, whose socially conscious lyrics and inspiring live performances have earned him a cover story in Living Blues magazine. His appeal has crossed over between predominantly white fans of traditional blues and predominantly black soul-blues fans. "I think blues has a bright future . . . you just gotta be able to hang in the game." With an album on Malaco and a touring schedule of approximately 180 performances per year, that is just what Grady Champion is doing.
CONNECT
http://gradychampion.com
A review in Gonzookanagan. "Steppin' In is as blue as blues can be."