Fern Kinney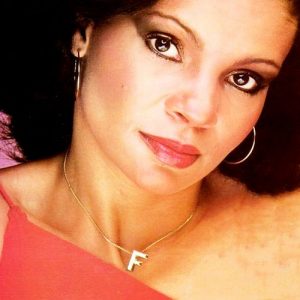 Born July 11, 1949, in Jackson, Mississippi, Fern Kinney is an R&B and disco singer. She got her start in the music business in the 1960s when she replaced Patsy McClune in the Poppies female vocal group.  For two years, Kinney sang in the Poppies alongside Rosemary Taylor and soon-to-be soul star Dorothy Moore.
Kinney's first solo single, the Huey Meaux-produced Your Love's Not Reliable, was recorded at Bob McRee's Grits n' Gravy Studio in Jackson and released on Atlantic Records in 1968.  Through the intercession of Jerry Puckett and James Stroud, Kinney became a background singer at Malaco.  She sang behind many of the company's releases, including two of its biggest hits of the 1970s: King Floyd's Groove Me and Dorothy Moore's Misty Blue.  She then left the music business to raise a family.
When Kinney re-entered the music scene in 1978, disco was king.  Her first single upon returning was a duet with Frederick Knight on a Paul Davis and Susan Collins song called Sweet Life, released on Malaco's Chimneyville imprint.  She followed that with a disco version of Groove Me, produced by Carson Whitsett, Wolf Stephenson and Tommy Couch Sr. with synthesizer parts contributed by Carl Marsh.  Released on the T.K. Disco label, the song made it to number 26 on the R&B chart, number 54 on the pop chart and number 9 on the dance chart.  WEA International distributed the disc overseas and the song became popular in the European club scene.
Kinney's follow-up single, 1980's Together We Are Beautiful, was a cover of singer-songwriter Ken Leray's 1977 recording.  Also produced by Whitsett, the record didn't make much noise in the U.S. but it was a number one song in England.  Suddenly, Kinney was appearing on the British television shows Top of the Pops and Lena.  She sang the song on the German television show Disco.  In Australia, Together We Are Beautiful became a popular track at roller rinks.
Other twelve-inch singles Kinney released during the 1980s were a cover of the Shirley and Lee classic, Let the Good Times Roll (1981) from her Fern album; I'm Ready for Your Love (1982) from Sweet Life; Beautiful Love Song (1983) and All (featuring G. C. Cameron, 1984).  Fern Kinney eventually returned to background vocal work and family life, though in July 2016 she was part of a soul revival show in Manchester, England, which included Peabo Bryson, Anita Ward and other top singers of the 1960s and 1970s.