Bland was born Robert Calvin Brooks on January 27, 1930; although he usually claimed Rosemark, Tennessee, as his hometown, some sources cite the nearby village of Millington as his birthplace. When he was in his mid-teens, he moved with his family to Memphis, where he soon joined a gospel group called the Miniatures. A devotee of secular music as well, he eventually fell in with a group of like-minded hipsters with show business aspirations who have since become known to historians as the Beale Streeters, although it's not certain that they actually used this name themselves. They included, among others, guitarist Riley King (rapidly becoming known as "B.B."), pianists/vocalists Rosco Gordon and Johnny Ace (née John Alexander) and drummer Earl Forrest.
Bland's breakout hit, the loping 12-bar
Farther Up the Road
(on the Duke label), predated Sam Cooke's
You Send Me
by about two months in 1957. The following year, Bland virtually defined the blues (or soul blues) ballad with
Little Boy Blue
, which built from intimacy to full gospel fervor over the course of less than three minutes and codified the soul man's persona as a wounded and fallible man of love, exuding both passion and vulnerability as he pleads, screams and importunes his lady for mercy.
Aside from the occasional house rocker like 1961's Turn On Your Love Light, Bland pretty much stayed with that approach throughout his career, charting over 60 times in the process. Although through the years his voice thickened and became less supple (and his gospel "squall" became less of a musical device and more of an emotional punctuation mark), the emotional charge of his delivery never wavered, and he never stopped honing his gifts as a stylist.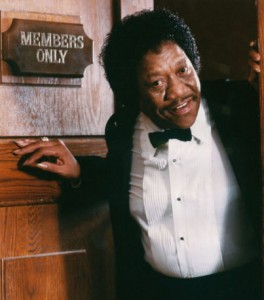 Those gifts were on full display on Members Only, Bland's 1985 debut release for Malaco. Members Only, penned by Malaco-based keyboardist/vocalist Larry Addison, represented something of a commercial rebirth for him. Although he never again attained national chart recognition he remained a steady and beloved presence on the scene until his death in 2013—indeed, to several generations of music lovers, his name (along with B.B. King's and maybe one or two others) became virtually synonymous with "blues."
During his 18-year tenure at Malaco, Bland showed himself in full command of his deep running and finely textured emotional landscape over the course of nine studio albums and one live album. Ballads like the Mosley and Johnson–penned I Just Won't Be Your Fool Anymore (from 1991's Portrait of the Blues) and Where Do I Go from Here (from 2003's Blues at Midnight) featured his wounded warrior, soul man's persona undiminished; but on a wronged lover's throw down like Straight From the Shoulder (Member's Only, 1985) or 1987's Get Your Money Where You Spend Your Time from Blues You Can Use, he infused that same vulnerability with a smoldering anger that pulsed with both plaintiveness and resolve. The Larry Addison–penned You've Got to Hurt Before You Heal, from 1989's Midnight Run, was a secular sermon on heartbreak and redemption that mined the very essence of soul music's timeless message of perseverance and hope in the face of despair. Bland's final Malaco CD, 2003's Blues at Midnight, provided a subdued but fitting capstone to one of the most remarkable careers in modern blues—he even summoned some of his old testifying grit for an easy-rolling reprise of Z.Z. Hill's soul blues anthem I'm a Blues Man. (Meanwhile, a new generation of listeners was introduced to his music when rapper Jay-Z sampled his 1974 hit Ain't No Love in the Heart of the City on the album The Blueprint in 2001.)
Always a master of phrasing and microphone technique, Bland heightened the intimacy of his delivery as his vocal power subsided—like Billie Holiday and other master stylists, he made a virtue of meeting challenges that a lesser singer might have found debilitating. And he never stopped performing: virtually until his death, he appeared on shows alongside blues and soul blues artists decades younger than he, to the adulation of fans young and old and the respect, if not reverence, of virtually everyone else on the bill. In March of 2013, by now suffering from multiple health problems, he finally had to abandon the multi-city "Blues Is Alright" revue, on which he had been a fixture for years, to be rushed back to Memphis and admitted to the hospital. Although he returned home to convalesce, those who knew him realized that his condition was dire. But he never lost his spirit: Bobby Rush, a longtime friend, remembered that even "down to four or five weeks before his death, he was asking me to record him . . . he had the mind to do it, but he wasn't physically strong enough to do it."
Bobby "Blue" Bland died on June 23, 2014. His funeral, at the First Baptist Church – Broad, on Broad Avenue in Memphis, was both a solemn memorial and a celebration of his life. Dignitaries ranging from Rev. Jesse Jackson to former Memphis Mayor Willie Herenton who spoke in tribute, as did musical friends and admirers like B.B. King, former Stax president Al Bell and Stax songwriter David Porter (the city's then-current mayor, A.C. Wharton, was out of town but sent a recorded message). Memphis-based gospel vocalist Deborah Manning-Thomas sang How Great Thou Art with a gripping, reverent intensity; Otis Clay delivered a heart-stopping When the Gates Swing Open, and Shirley Brown lifted the house into ecstasy with her transcendent reading of Amazing Grace.
—David Whiteis
Portions of this bio are adapted from David Whiteis' book Southern Soul-Blues (University of Illinois Press, 2013) and his 2013 obituary of Bobby Bland for Living Blues Magazine).