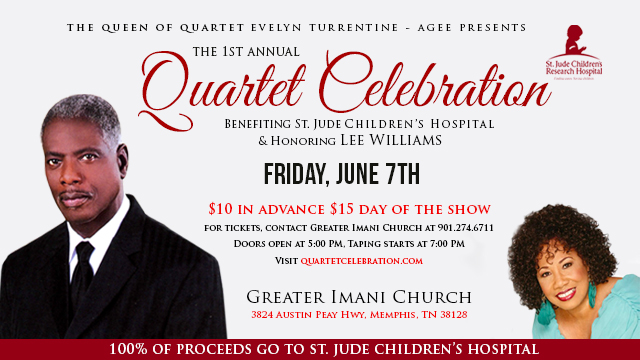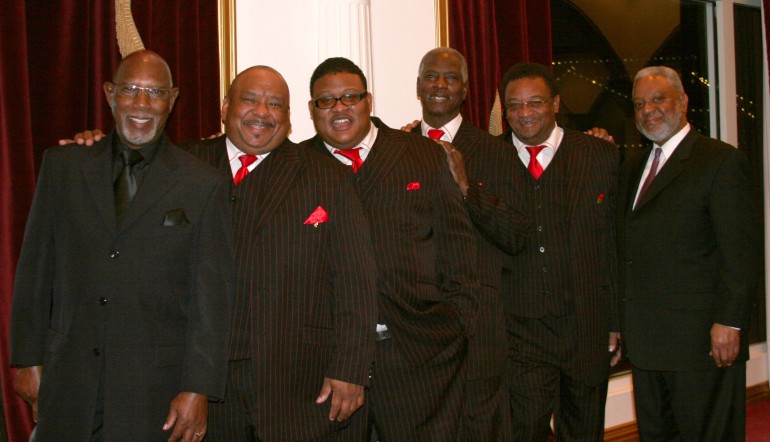 ---
The 1st Annual Quartet Celebration
JACKSON, MS – Malaco Music Group is sponsoring The First Annual Quartet Celebration, a gathering of quartets throughout the gospel community, to celebrate music, glorify God and give back to the community. The celebration will be held Friday, June 7, 2019 at Greater Imani Church located at 3824 Austin Peay Hwy in Memphis, Tenn. All proceeds from this event will benefit St. Jude Children's Research Hospital. Doors open at 5 pm; taping of the event will begin at 7 pm. Preordered tickets are $10; tickets purchased the day of the event are $15.
Live performances include The Williams Brothers, Harold Turrentine & The Family, The Spiritual QCs, Roy & Revelation, The William Singers, The Alabama Gurlz, Darrel Petties & Take 2, George Dean and G4, Time Woodson and The Heirs of Harmony, The Selvys, The Echoaires, The Sensational Wells Brothers, The Victory Travelers, and The Racy Brothers.
Each year, the Annual Quartet Celebration will hold a performance in honor of a legendary gospel quartet artist. This year's event is hosted by comedian and actor, Jonathan Slocumb. The guest of honor for this year's celebration is Lee Williams, lead singer of The Spiritual QC's. The quartet community is gathering to celebrate his retirement from music. Williams, a Tupelo, Miss. native, began performing gospel music with his brothers, The Spiritual QCs, when he was eight yearsold. The group has achieved many accomplishments and received many awards in their 50 years of entertainment, including their 2000 album Good Time, which won 10 Stellar Awards, a Mississippi Trailblazer Award and entered the Billboard Top Ten Chart for Gospel albums. The album was also nominated for Best Gospel Album at the Soul Train Music Awards and earned the group "Traditional Quartet of the Year" at the Gospel Music Excellence Awards.
This celebration came about as an idea of the Queen of Quartet, Evelyn Turrentine-Agee, who wanted to give Williams a well-deserved retirement celebration. Malaco is sponsoring this celebration for Williams as well as gospel quartet music in general to celebrate the magnificence of the genre.
"I'm feeling blessed to be able to collaborate with Malaco for this celebration. I really wanted to do something special to celebrate Lee, so all proceeds go to St. Jude on behalf of the National Quartet Community," Turrentine-Agee stated.
St. Jude is the charity of choice for this celebration because it's a personal charity of the Malaco Music Group President, Tommy Couch, Jr.
"St. Jude cares for children all around the world. Cancer and other illnesses don't see color. Neither does St. Jude, which is why I'm passionate about their cause and support this charity," stated Couch.
The St. Jude mission is "to advance cures, and means of prevention, for pediatric catastrophic diseases through research and treatment. Consistent with the vision of our founder Danny Thomas, no child is denied treatment based on race, religion or a family's ability to pay." St. Jude cares for the child in need as well as their family.
"My youngest child fell ill at six-months and I spent a lot of time at the Children's Hospital of Michigan. Although I didn't spend time at St. Jude, I realize the importance of research in children's medicine and I know the significance of not having to worry about when and how a parent will afford to stay with their sick child," Turrentine-Agee added.
For tickets and more information on The First Annual Quartet Celebration, contact Greater Imani Church at 901.274.6711 or visit www.QuartetCelebration.com. For more information on St. Jude Children's Research Hospital, visit www.StJude.org.
"I'm Just A Nobody" – The Williams Brothers
---
"I've Learned To Lean" – Lee Williams & The Spiritual QC's
---
"Thank You" – Roy & Revelation
---